Give Full Attention to Customer Queries With Our Inbound Call Center Solutions
The efficiency of Inbound Call Center is one essential factor that decides the overall success of your customer interactions. These are undoubtedly the biggest sales earner in terms of making a solid customer base. At CallCenterHosting, we deliver the quality-oriented Inbound Call Center Solution that could be easily setup in your environment.
Various features such as auto attendants, automatic call-distribution, skills-based routing, CRM integrations, and others stand it apart. Our solution lets you decrease the downtime significantly by routing the calls to the skilled and available agents immediately.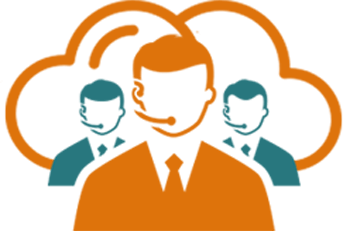 Want to know more about Inbound Call Center ?
Now Connect To Every Potential Customer Effortlessly
In-depth Reports
Pay attention to every detail by comprehensive call reports so that the overall potential can be measured in a detailed way.
Advanced Call Distribution
Automatic call distribution (ACD) ensures that all the calls should reach the right agent automatically to expedite the customer support process.
Interactive Agent Dashboard
The agent dashboard is highly interactive and with the CRM screen popups, the agents can show much higher productivity.
Queue Management
In the situation of high call volume, intelligent queuing ensures that the agent and callers get connected to each other immediately.
Application Integrations
The inbound call center software is highly compatible with different business applications, and this makes it more versatile.
An Intuitive IVR
Interactive Voice Response (IVR) reduces the human efforts to help the callers with the right information at the fingertips.
Multi-Channel
It is a multi-channel portal that includes voice calls, email, and chat in one application. In this way, it helps agents to give customers a seamless experience.
CRM Integration
CRM integration helps the agents to take help from the available customer data and give a personalized customer support.
Updated Customer Data

Customer data gets updated on every call that helps agents to give a personalized customer support.

24x7 Support

Our experts provide robust customer support that help customers find the best possible solution 24x7.

Cost Effective

Inbound call center solutions from CallCenterHosting has best pricing model in the industry with better offerings.

Workforce Optimization

Optimized workflow by quality management and agent scheduling that ensures much better agent performance.