Give Your Business - The Right Dialer, And Your Customers - The Right Solution
Make Smarter Customer Connections With Our Predictive Dialer
Customers are the most crucial asset of any business. Your call center is the touchpoint these customers access the most while interacting with a business, and what better way to connect with them than a hosted predictive dialer?
Predictive dialer gives you the ability to connect with thousands of viable customers while filtering out the busy, disconnected, no answer, and voicemail calls. All you have to do is upload a contact list and set a dial ratio; our predictive dialer software takes care of the rest. Cloud-hosted Predictive Dialer solution from CallCenterHosting ensures that the agents perform to their maximum efficiency and escalate towards impeccable customer service.
Predictive Dialer Features That Make It Ideal For Outbound Calling
Outbound Dialing
Inbound Calling & Routing
Call Tracking
IVR & Dial-Next
Voice Broadcasting
Call Monitor, Whisper & Barge
Lead & Contact Management
Automatic Time Zone Management
Data Export & Data Import
Customer Caller ID
Click-To-Call
Recorder Voicemail Drop
Campaign & List Management
Call Notes, Tags & Automatic Call Script Pop-Up
Automatic Call Logging
Call Recording
Automatic Call Distribution
Reporting & Analytics
Agent Wait TIme
Pacing Ratio & 3- Way Calling
Let's Take A Look At How A Predictive Dialer Works?
Contact/List Management Software
It identifies call progress results, example difference between a busy signal, a no answer, a live "hello," and a voicemail.
Admin Software
It manages agents and tracks their ongoing, previous call details.
Call Progress Identification Software
It identifies call progress results, example difference between a busy signal, a no answer, a live "hello," and a voicemail.
Dialing Algorithms
The predictive dialer runs through a list of contact numbers to dial. The dialing algorithm determines how many calls to place per agent. This is known as the Concurrent Call Ratio.
Real-Time Reporting Software
It monitors the agent's performance and keeps track of call details.
Why Is It Important For Your Business To Get A Predictive Dialer?
Better Agent Productivity
An intelligent predictive dialer system frees up agents from the tedious task of looking up numbers and dialing them. It also saves them from unnecessary ring sounds and busy tones. It figures out when an agent will be available to take the call and dials accordingly. The dialer can also work in tandem with Automatic Call Distributor (ACD) and help agents handle both incoming and outgoing call flux.
Facilitates Remote Working
Our predictive dialer makes you enterprise-ready with the complete home-based solution. Now you can work from anywhere, anytime, and connect with your colleagues seamlessly. The dialer provides agent scalability while ensuring that they stay safe in times of crisis. You can make better customer connections and outreach globally.
Accelerates Sales
Since a predictive dialer saves a lot of time, call center agents get the time to focus on their conversation with customers and leave the rest. The dialer also improves the efficiency of agents to close sales and develop better relationships by tracking and analyzing the general patterns. These hosted predictive dialer software also connect all calls at the right time to ensure a fruitful conversation.
High Customer Satisfaction
Customers want to be contacted only when the time is suitable for them. The predictive dialer precisely does that by making the calls at the right time so that the chances of the customer picking up the call and actively listening increases. Predictive dialer hosting also enables agents to personalize and filter their conversations, thereby increasing customer satisfaction.
Cost Saving
Predictive dialers are hosted on the cloud, thus making them cheaper than the traditional extensive setup dialers. These dialers are also easy to manage and install as they come with monthly plans and full-time support to help your business at every step. Hosted predictive dialers also save costs by making most of the existing agents and eliminating the need for any surplus staff.
Easy Management
Predictive dialers ensure smooth and unbiased management of the call center by dividing the workload evenly and making sure that all agents are performing to their optimum. Predictive dialer cloud hosting also helps the senior management to monitor and analyze all calls made by the agents, which helps them find the gaps in training and development and rectify them.
Real-Time Reports With All The Insights
Disposition Report
Track the outcomes of the agent's calls from the call disposition report. It lets the sales managers gain valuable insights and optimize the sales process.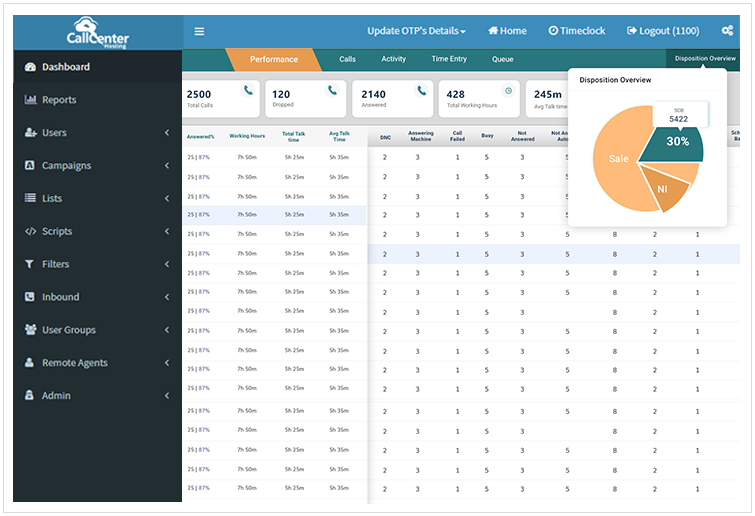 Queue Performance Report
Get a detailed analysis of the agent's total and answered calls in a single report. The queue performance report summarizes the call details and that too in one place.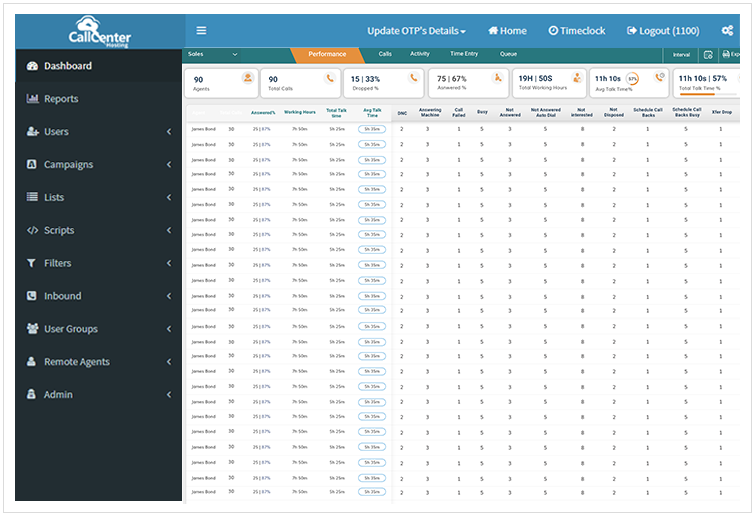 Real-Time Report
Get a detailed analysis of the agent's total and answered calls in a single report. The queue performance report summarizes the call details and that too in one place.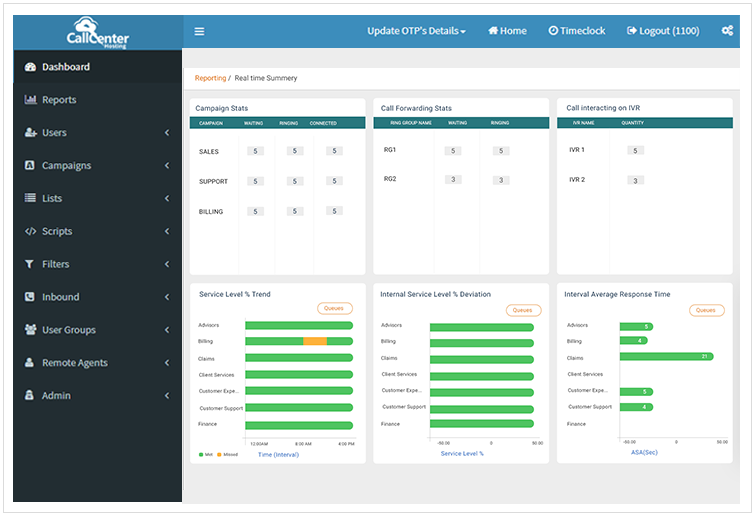 Real-time Dashboard
Refer to the real-time dashboard to get a summary of call stats, agent stats. Get all the required call information on the panel for your convenience.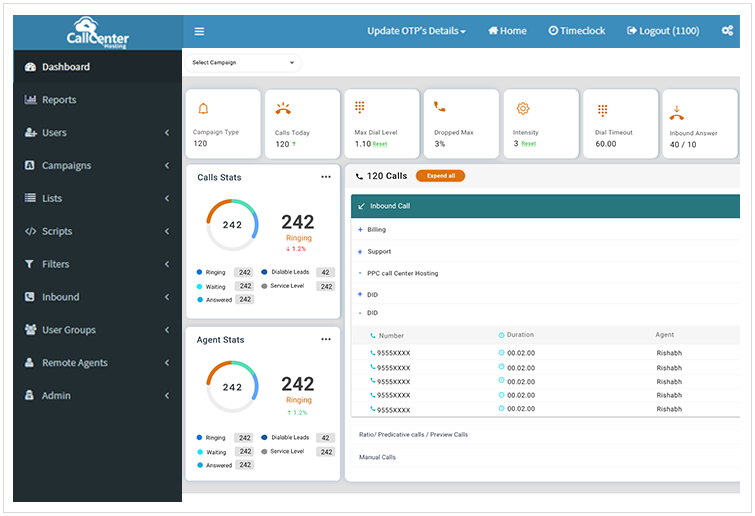 Call-Back Scheduling Report
CallSchedule your own callbacks and access assigned call backs. The schedule call back report displays every information that you need to know for call backs.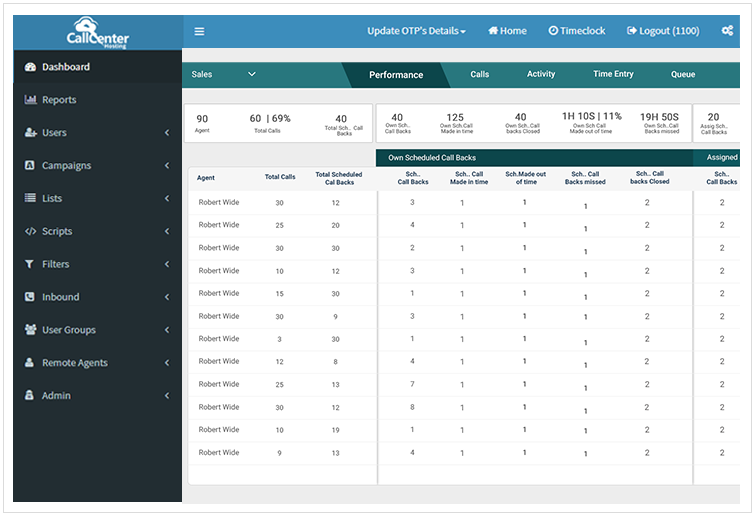 They Trust Us, You Should Too
Why Choose CallCenterHosting?
Customer Support
We ensure that our outbound call process should be glitch-free and smooth. But if something goes wrong unexpectedly, we are there, every step of the way
Automatic Workflow
Predictive dialer, integrated with CRM, makes use of every bit of customer data. This integration ensures an automated workflow for your agents, enabling them to perform better.
Productivity Booster
Boost up your overall call center productivity with intelligent dialing and call filtering. Your agents work to their maximum productivity, ensuring a high customer satisfaction rate.
Higher Revenue
Let predictive dialer's intelligent customer outreach help and grow your revenue. After all, isn't that the true meaning of customer success?