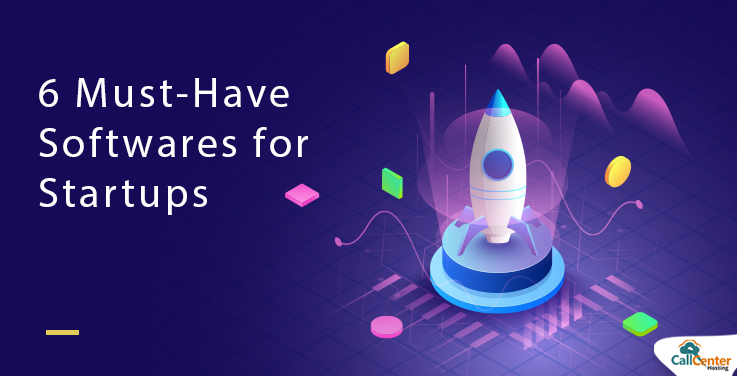 There is a very thin line of difference between a dreamer and an achiever. Everybody dreams of establishing a successful business, but very few actually achieve it. A startup is like growing a crop—to reap the fruits of your labor, you first have to nurture it. 
Today, we have greater access to a brilliant collection of business software than we did before. Regardless of what type of startup you are planning to launch, the SaaS market provides advanced and feature-rich software to make your business operations effortless.
The SaaS market is exceptionally diversified. If you check online, there are innumerable business software offering a robust set of features and functionalities. 
But finding the best tools for your startup, ones that suit all your business requirements is a task.
We reviewed hundreds of SaaS tools to make your business journey smoother and compiled a list of the 'best of the best' tools. So, let's get started!
6 SaaS tools that you must have in your bucket before starting a startup
To make it easier for you, we have listed all the software under different categories. By understanding the needs of startups, we targeted all the critical business aspects and found the software that serves best in that specific domain.
For project management
Project management tools allow you to perform a list of tasks efficiently and in a hassle-free manner. By using these tools, businesses can take advantage of the advanced technologies to improve workflow and magnify the performances of their project teams. 
Trello
Trello is one of the most popular project management software in the SaaS market. It comes with intelligent features that organize tasks and projects in the most efficient manner. Trello operated on the principles of Kanban boards, allowing users to visualize their workflow. These boards are adjustable, enable instant tracking, and can be accessed by multiple users.  
Key features
Easy drag and drop feature for managing your tasks

Private and public access to your tasks

Pop-up and email notifications
For team collaboration
Team collaboration helps enhance team productivity while working together on the same project or solving an issue. Team collaboration software aims to improve the communication, productivity, and problem-solving capabilities of your business teams. Even if your team is working remotely, team collaboration tools can overcome all communication gaps.
Slack
Undoubtedly, Slack is one of the most powerful team collaboration tools. Having millions of registered users worldwide, Slack hardly needs an introduction. You can send direct messages and documents to your team members and make voice and video calls to your colleagues. Slack is an intelligent platform, well-equipped with the latest features, and organizes your conversations into different channels.
Key features
Allows integration with different cloud storage platforms like Google Drive, Dropbox, and Box

Enables file sharing with easy drag and drop features

Supports audio and video calls with 15 people at a time
For time tracking
Time tracking allows businesses to monitor how much their teams are working. In recent times, they have become a must for companies, especially after the COVID-19 pandemic hit. Making time-tracking a staple in your work routine helps your business be more transparent. 
Using these tools, you can stay on top of your business operations and get a clear insight into your employees' work. It also helps your employees stay more focused and productive towards their work.
Hubstaff
Time tracking can be a cumbersome activity even if you use the most optimal time tracking software. Hubstaff is the only solution to help you with this. It offers a fantastic set of features such as screen recording, automated payrolls, accurate insights, GPS tracking, etc. Also, with Hubstaff, you get detailed analytics on how your employees spend their time during office hours.
Key features
It can efficiently operate on commonly-used browsers like Windows, Mac, iOS, Linx and Android

It can be integrated with 30+ project management tools

Allows you to track your employee's location through GPS tracking
For CPaaS
CPaaS software allows businesses to take a deeper look into their customers' preferences along with their response patterns. 
These insights can help businesses understand the needs of the customers and create tailored communications. CPaaS also enables enterprises to establish faster and more cost-effective customer engagement. 
Acefone
When it comes to cloud communications, Acefone is the leading provider of CPaaS and makes your business communication seamless, collaborative and efficient.
A well-established brand in the cloud telephony industry, Acefone offers services such as hosted phone systems, contact centre solutions, free phone numbers, broadband plans and much more. Acefone also provides powerful integrations with commonly-used business tools such as Zoho, Hubspot, Salesforce, etc.
Key features
Gives access to innovative dashboards well-equipped with advanced features

Supports all the devices

Provides 24×7 assistance and 99.99% uptime
For cloud hosting service
Cloud hosting services allow businesses to execute their operations seamlessly with the power of the cloud. They offer a safe way of storing and sharing a company's confidential data. 
Cloud hosting services also eliminate the need for heavy and expensive on-premise workstations. Apart from being a cost-effective solution, it also offers flexibility to the employees to work from anywhere.
Ace Cloud Hosting
Ace Cloud Hosting is a leading cloud hosting service provider helping businesses redefine the cloud experience for their customers. Regardless of the size of your enterprise, it caters to all your business needs. Ace Cloud Hosting provides hosted VDI solutions tailored to different industries and gives you the option to customise the desktop solutions according to the size of your business.
Key features
Offers fully-managed VDI solutions

Ace Cloud Hosting is a Microsoft Tier-1 partner to sell intuit Microsoft Office 365 licenses at a reasonable price

A ready-to-use desktop application service
For social media management
Being a startup, it becomes crucial for you to establish your company's presence on multiple social media networks to expand your reach. But managing multiple social media accounts at the same time can become complex. 
Social media management tools are the unparalleled remedy for this. These tools ease down the workload of your social media activities on different platforms. They offer many benefits such as post scheduling, organised conversations, increased engagement and so much more.
Buffer
Buffer is an all-rounder platform for successful social media management and helps bring meaningful analysis and results. 
With a user-friendly interface, Buffer is highly refined to offer the flexibility to schedule your posts. By using this social media management tool, you can obtain real-time analytics of your content. 
It also helps you monitor keywords across multiple social media platforms and allows you to track the success of your campaigns. 
Key features
Allows seamless integration with Google Analytics

Supports different social media platforms such as Facebook, Instagram, Twitter, LinkedIn, Pinterest and many more

Offers browser extensions for Google Chrome, Safari. Opera and Firefox for scheduling your content
Wrapping up
Transforming your startup into a successfully established business is not a single-day job. You need to work consistently from day one; there will certainly be moments where you will feel like you can't reach your goal. But have faith in your work and your goals. 
Analyse your results every day to see how much your startup has progressed. Launching a startup is not a small task, but you can simplify this process by using efficient tools that are readily available in the market. 
Go through the features and reviews of all the tools that we mentioned in our list and try to incorporate them into your startup journey to obtain excellent results. 
If you want to know more about such amazing tools, you can reach out to CallCenterHosting. Connect with our experts at 1-800-346-4974 or drop us an email at sales@callcenterhosting.com.