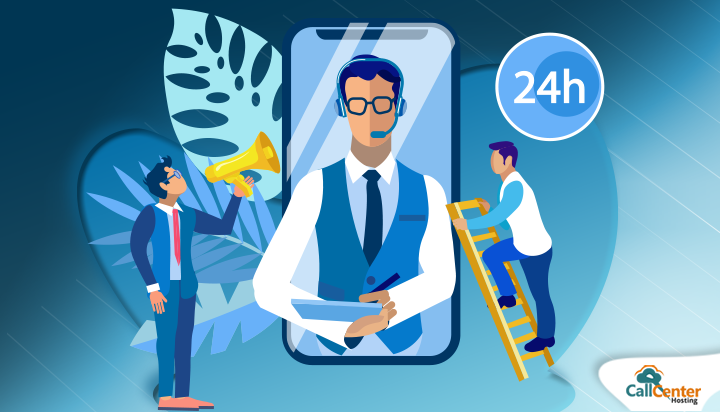 Call Center training is an essential aspect as the agents should be trained enough to talk to customers and retain them. Agents are the touchpoint of a business (for every customer), making them the most important part of the impression a business leaves on the customers.
Managers need to keep innovating and evolving with their training methodologies to ensure that all agents get the training they need and the tips that help them perform to their maximum potential.
Let's take a look at the 15 best call center training tips:
1. Start The Learning Before Agents Join
A pre-induction training before the agents arrive can help them join with a sense of confidence and belief in themselves. These training sessions can include learning material, videos, compliance topics, sales simulations, and more.
This training also prepares the agents for the world that is coming their way, making them competent for the job they just got. An induction training also helps reduce the training process after the agent joins. It also helps improve customer service and sales by the agent.
2. Johari Window
Johari window is a fantastic concept to try. It helps small teams define their levels of knowledge regarding associated topics. Different questions can be prepared related to the call center process, and agents are given these questions to group in four different categories, as displayed below.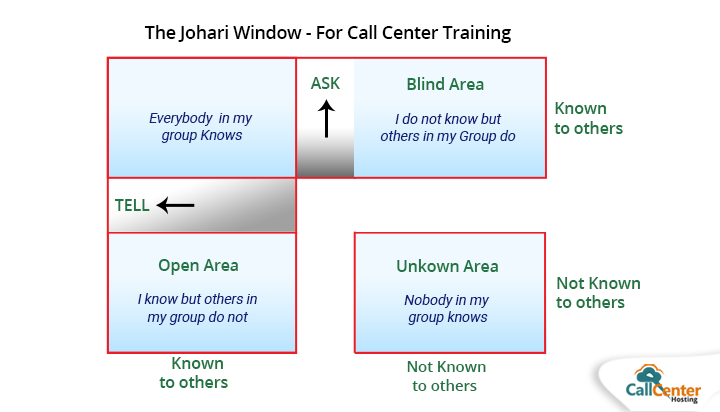 If agents put any questions in the blind area, they should ask those questions to the other team members. The agents must answer the questions in the hidden section, and in case there are any questions in the unknown area, they should be addressed by the team leader or any other higher management.
Johari window helps agents learn from each other and help them identify their knowledge in comparison to the ones around them.
3. Teach Agents To Create An Emotional Connection
What you say matters, but how you say it matters more. Agents should be emotional and empathetic of the customer's situation. This empathy helps them make a better connection with the customer.
An emotional connection with the customers registers a positive and satisfying image in the minds of the customers. It also helps the customer trust the brand more and have faith in their service/product.
So, if you want your customers to have an experience, they would not forget, train your agents to make an emotional connect with the customers.
4. Personalize Training To Meet Individual Goals
Every agent is different, and so are their problem areas and approach towards them. It is not possible to cater to all agents with individual training made solely for them, but it is possible to incorporate some time to focus on key individual areas.
Call recordings and an in-depth analysis of every conversation an agent has with the customers can bring more clarity in this domain. Training agents by focussing on their individual strengths and weaknesses is your step way to customer service success.
5. Follow The POPEA Guidelines
It is essential to engage all agents and deliver to the expectations that you have set. One good way of setting the right expectations and ensuring engagement is by following the POPEA structure:
P- Purpose: The purpose of the session should be clear and concise.
O-Objective: An objective is necessary to refer to before and after the session to ensure that it has been met and to refer to after the session.
P- Process: Clearly define and outline what all the session includes so that the agents can prepare themselves accordingly.
E- Experience: Experience matters the most. Understand the overall group's experience on a scale of 1-10. Use the experienced people to your benefit while making sure the inexperienced ones understand what you are trying to say. Also, ask for feedback and compare the experience level after the session to track change and improvement.
A-Apply: What happens when the session ends? Make sure everybody understands their role and the expectations that you have with them after the session.
6. Be Informal Sometimes
Your coaching and feedback sessions are not always supposed to be formal. Sometimes, it works well if you take off the pressure and have an informal and real chat with your agents.
This chat can take place anytime, anywhere, depending upon the requirement and the situations. It is also easier for agents to trust their managers if they sometimes talk to them informally and care about their feedback and responses.
7. Focus On Engagement Activities
Meetings and sessions have their place and are necessary for the smooth engagement of a call center. It is also equally important for managers and administrators to organize various engagement and team bonding activities.
Such engagement sessions bring more confidence and motivation within the agents. They also help in retaining more agents and giving them a little concession from the stress they face.
8. Go Beyond The Classroom
Going beyond the classroom here means incorporating training in the everyday processes that an agent performs.
Training is not necessarily a teaching session with boards, pens, and papers. Practical training can be delivered on a need basis and can be incorporated within the daily work task of the employees, helping them get a clearer picture of the process.
9. Get The Expectation Clear While Recruiting
Working in a call center is not always a pretty sight. Make sure your agents know this before starting their training process.
While recruiting, ask the candidates if they understand what working at a call center means. Talk to them about days when you have to be on the phone for 4-6 hours without showing even a bit of frustration.
Also, make them listen to some examples of calls that you get, the annoying, and the good ones. This listening will give them an understanding of the world that they are entering, and you can then start their training process.
10. Let Agents Handle Calls During Induction Training
Letting agents handle calls is the most crucial part of the training process, and it must take place with utmost dedication.
Make sure that you have the equipment to make that happen and schedule at least 2-3 sessions where the trainees are allowed to handle real-time calls. Role-plays and all work, but the essence of real calls cannot be replaced with any other methodology.  Hence, this part of the training process should be a priority for both the trainers and the trainees.
11. Create A Buddy System
Create a buddy system wherein the well behaved and efficient agents can help those who join.
This program can help the new recruits listen to these agents and imitate them in the future. It also increases the productivity of these agents and gives them the motivation to work their best along with improving the agent engagement.
12. Let Agents Learn From Their Own Mistakes
Make the agents listen to their own recordings. This process will help them identify mistakes and point out things they could have done better.
It can also be useful to help them implement the training objective by listening to the calls and letting them take another call, keeping that objective and training in mind.
13. Avoid The Mainstream PPTs And Keep Sessions Short And Informative
Keep all training sessions short and informative. The agents must listen with the utmost concentration. Avoid long PowerPoint presentations with much text.
Find an interactive way to explain your objectives in short, something that captures their attention and registers in their minds.
14. Use A Periodic Training System
Training is not a one-time affair and needs revalidation every now and then. New technologies and methodologies keep presenting themselves. Make sure that you incorporate regular training sessions for all agents to ensure smooth and proper functioning.
This periodic training gives time to focus on the individual strengths and weaknesses, along with making sure that your staff is up to date with all the new trends and technologies.
15. Collect Feedback And Adapt Accordingly
Training feedback is as valuable as the training itself. Make sure you collect feedback and adapt your training process accordingly.
The agents know best and can help you with real and unfiltered feedback, thereby making it easier for you to revise the future training programs.
Accommodate these tips in your training program and see your agents excel and grow- while helping your business and your call center grow. Also, let's not forget that a happy agent equals a satisfied customer. So, help them- help your customers.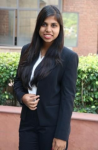 Latest posts by Niharika Gupta (see all)