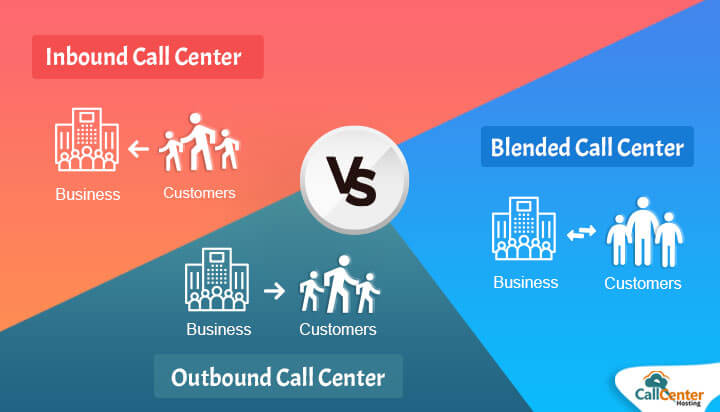 For long, most people have had a very simple perception about inbound and outbound call centers, that is, the former serves incoming calls, while the latter maps outgoing calls. This concept is correct, though many other things are involved too.
If you go into detail, inbound and outbound call centers have a very different approach, function, and working infrastructure. There are huge differences in the purpose, nature of work, challenges, agents' tasks, etc.
But besides just that, there is another type of contact center that functions as blended call centers. But before you get an in-depth understanding of the blended contact centers, let's know more about the differences between inbound and outbound call centers.
| | | | |
| --- | --- | --- | --- |
| | Inbound | Outbound | Blended |
| Features | Call monitoring, transfers, barging | Dialer, IVR, Voice broadcast | Automatic call distribution & Predictive dialer |
| Potential | Lower cost of setup and better ROI | Higher technology cost, but ROI depends on performance | Higher cost of setup, but better ROI |
| Training & Monitoring | Politeness & problem-solving skills | Shrewd sales & verbal marketing skills | Both |
Technology Differences
The first and foremost difference that you should know between inbound and outbound call centers is the kind of technology either of them uses in operation.
Inbound Call Centers
Inbound call centers don't require as many additions in the process as outbound centers, thereby keeping the cost down. Here are the things you should know about:
Call Monitoring: Call monitoring is essential to barge calls to maintain quality. Plus, these recordings are stored for a specific time for training and monitoring purposes. Besides just that, several other features help in call monitoring, one of them being conferencing and 3-way calling.
Call Functions: The call controls in an inbound call center are mostly standard, like placing on hold, muting, and provisions for transferring. Moreover, the communication devices for the managers and quality even have the call barging function. Further, inbound call centers also use a lot of other call features to ensure the smooth functioning of the contact center. These include call parking, call back scheduling, and IVR.
Ticket Integration: Integrating tickets for the consumers to address their problems is the only complex technology used in inbound call centers. However, the ticket generation is mostly computer-generated, of course, with the help of bundled solutions.
Outbound Call Centers
Outbound call centers are slightly more complex on the setup as they require quite a lot of inputs on the operations. Here are the technology used in outbound call centers:
Dialer: The dialer is one of the essential parts for an outbound call centers to function. The dialer places call to the numbers fed in the system continuously and assign them to the available physical callers.
CRM: CRM (customer relationship management) is a software that records customer responses for the main operation and business processes.
IVR: IVR might be a dated technology in contact centers, but is still highly prevalent outbound call centers. IVRs are placed before and after the physical representatives take over the call to increase the engagement.
Challenges of Operation
Since inbound and outbound call centers have different setup and purpose, there are different challenges required in operation. To start with, inbound call centers are not directly related to the first-hand sale as it does not involve the lead generation or conversion.
Hence, the sales target and pressure to work on the ROI is not as much as in an outbound call center.
However, on the other hand, outbound call centers have a more different operation process where the agents call up mass-generated leads to try and convert them to sales or survey.
Plus, since outbound call centers are more involved in sales conversions, surveys, etc., the pressure of good performance is prevalent on every agent and manager involved in the operations directly.
Differences in Training and Approach of Agents
Now, the agents who are directly related to calling in a call center have to have a different skillset and need to undergo different training and personality developments.
In an inbound call center, where the people calling are either converted customers or valuable lead, the agents need to be extremely polite in the approach and skilled at solving the problems that they may have.
This may even include having any technical knowledge that the operation deals with.
On the other hand, outbound call centers have slight leniency with that as there is a completely different requirement. Since outbound call centers have a deeper relationship with sales, the agents need to have good convincing skills to complete the sale or convert a lead to a potential buyer.
The agents need to have a quick judgment to take into consideration the customers' behavior, interest, and tone of speech and deal with them just the same way.
What is a Blended Call Center?
Blended call centers, just as the name suggests, involves both inbound and outbound calling processes. Blended call centers are mostly restricted for larger offices and brands as the need technology requirement is higher than in outbound or inbound call centers.
Blended call centers have larger workforces of agents and a dedicated dialer. This system blends both incoming and outgoing calls at the same time using inbound ACD and outbound dialer and CRM integration.
To get in detail, the system works on automatic call distribution and predictive dialer in the telephony system. There are many systems and software already available that blend calls and assigns them to the available agents. This setup brings a lot of perks, such as:
Better Call Flow: The call flow in a blended call center is always better than any individual contact centers. There is little idle time as the predictive dialer manages placing and receiving calls based on the call flow.
Less Wastage of Time: There might be times when there are little or no incoming calls. During this, the dialer increases the flow of outbound calls to ensure that the agents are not sitting idle, thereby encashing on the resources completely.
Manages One CRM: The CRM used in a blended call center is versatile as it can manage the details of both the outbound caller ID and inbound ticket integration.
Final Thoughts
Call centers are a very important part of business, be it to make promotional calls, manage surveys, or copy feedback. Moreover, even inbound processes are essential to take care of customer grievances and provide information to potential leads.
However, the way each of the two call centers function and the purpose they fulfill are the aspects making the difference. And what makes a more significant difference is a blended call center, where the processes of both inbound and outbound operations are managed with increased efficiency, ROI, and decreased relative cost of setup.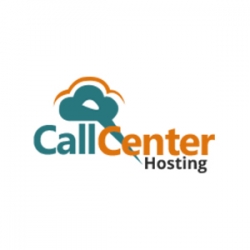 Latest posts by CCH Editor (see all)