The customer service levels have risen to new heights in the past few years, and so has the expectations of the customers. Everybody wants a top-notch service before, during and after the purchase of the product or service. Every industry is trying its level best to cater to the rising demands of customers, and the healthcare industry is not far behind.
Patients seek maximum support from hospitals, especially during an emergency. But even otherwise, a healthcare organization has a lot of high priority needs that need an instant solution. For this very reason, it is imperative for healthcare organizations to communicate with their patients effectively.
Traditional methods of communication were dependant on the patients showing up to the hospital and waiting for their turns, but now as the world is moving a little faster, patients want quick resolutions for their problems, which is where contact center solutions come into play.
With the evolution of contact center solutions, we have also seen an increase in the new and upcoming technologies that are industry-specific or tailor-made for a set of customers with certain needs. The healthcare industry, being a crucial one, can benefit from the advances in technology.
We live in an age where most of the existing diseases have become curable because of medical advancements but  communicating with the patients in the traditional way doesn't work in tandem with the transformation in the medical industry.
Excellent customer experience is crucial and desirable because customers are the common points of almost every industry. All the people we see out there are customers for some business or the other.
This versatility calls for having a communication approach that is designed keeping in mind the customer interest and experience. Along with being customer-centric, it should also be one that provides extended ease of communication.
The healthcare industry overcomes so many challenges on a day to day basis. The major challenges being that of booking appointments, clearing out insurance claims, effectively managing the emergency calls, sending out reports on time, etc. All these challenges can be solved easily by making use of a contact center solution software.
Let's take an example and understand all these challenges and how the contact center solutions can help in overcoming them.
Meet Dan, He suffers from a chronic illness and must book regular appointments and check-ups with the doctor. Let's see how Dan communicates with the hospital for his day to day problems.
Hospital A: Without A Contact Center Solution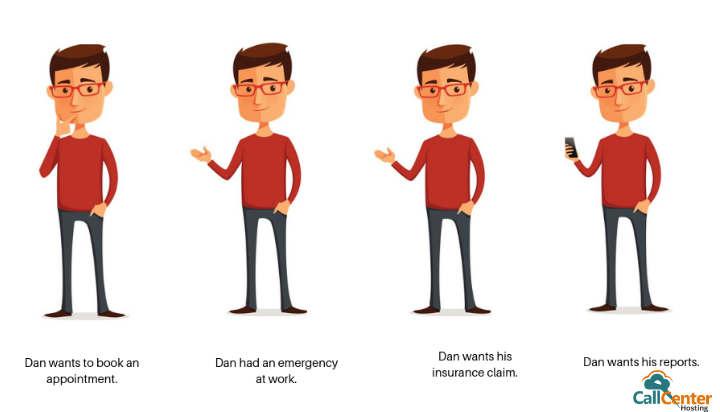 Dan wants to book an appointment:
He will go to the hospital and wait for his turn at the counter. Now that he has an appointment, he must again wait for his turn to see the doctor. This waiting period takes a lot of Dan's time. Not to forget, it aggravates his situation even further.
Dan had an emergency at work:
Dan was at his workplace when he suddenly felt dizzy and breathless. He now wants to call the emergency care for instant support, but instead, he's being connected to the hospital which in turn would direct his call to the ambulance driver after asking him about the address. This delay in call connection is a time-consuming process and can cause a major problem to Dan's health.
Dan wants his reports:
Dan underwent some tests in the past week and is now waiting for the reports to come. He has to call and check with the hospital repeatedly whether or not his reports are ready. He also would have to go collect the reports and wait for an appointment to meet with the doctor and get an explanation for the report.
Dan wants his insurance claim:
Dan was admitted to the hospital in a critical condition and now wants his insurance claim back. Amidst recovering from his illness, he would have to put together all the bills and documentation for reimbursement as his identity needs to be verified by the hospital and all claim forms need to be filled with the same redundant details again and again.
Hospital B: With a Cloud-Based Contact Center Solution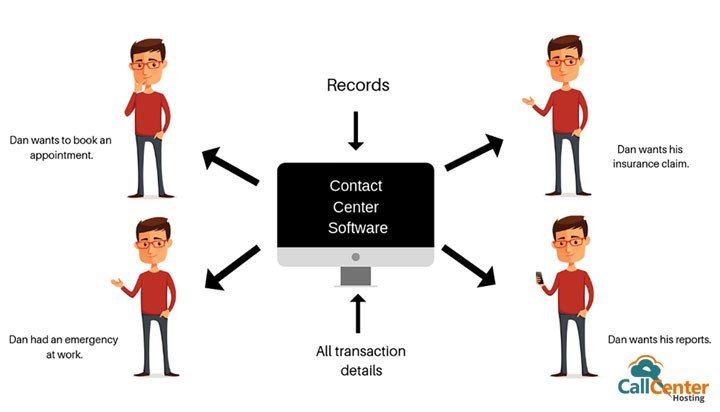 Let's look at the same situations if Dan decides to change his hospital and go for one that has integrated a Contact Center Solution to serve their patients better.
Dan wants to book an appointment:
Now that the hospital has integrated a contact center solution, Dan can check the available slots through an application interface and schedule his appointment easily without any hassle. He also doesn't have to wait for his turn as he can conveniently reach the hospital just 10 minutes before the appointment without stressing his condition any further.
Dan had an emergency at work:
Now that Dan is facing an emergency at work and the hospital has adopted to a contact center solution. It will be easy for Dan to directly connect to the nearest ambulance as the contact center solution allows routing based on distance or location. This instant connection will ensure that Dan gets the help he needs at the earliest.
Dan wants his reports:
Now Dan wants to access his reports, and as they are critical to his condition, he would want the reports at the earliest possible. With a Contact Center Solution in place, Dan can get SMS alerts about the status of his reports. This way, Dan does not have to call the hospital or waste his time repeatedly.
Dan wants his insurance claim:
Dan was admitted to the hospital and underwent some procedures. He now wants his insurance claim back. With the help of a Contact Center solution, it is easier to keep track of all his history and documentation. This stored data makes it easy for Dan to prove his identity and take the proper reimbursement against his insurance.
The example above shows how having a Cloud-Based Contact Center solution can transform the healthcare industry by making communication easier and efficient. Patients are the priority of any hospital and serving them rightfully is equally important.
For such a highly customer-centric environment, it is imperative that a contact center solution is adopted to smoothen and simplify all the interactions with the patients. Hospital B understood this concept which in turn helped it to retain more customers as compared to hospital A.
In conclusion, Having a contact center solution makes a complete communication platform in the healthcare industry that is beneficial for both the hospitals and the patients.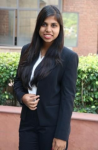 Latest posts by Niharika Gupta (see all)