The transformations that the customer support environment has faced in the past several years have only been possible because of the intelligence and insights coming from the customer data.
And these insights and intelligence have only become possible because of the cloud technology that supports the idea of making things customer-centric. Cloud has done this ever since its inception.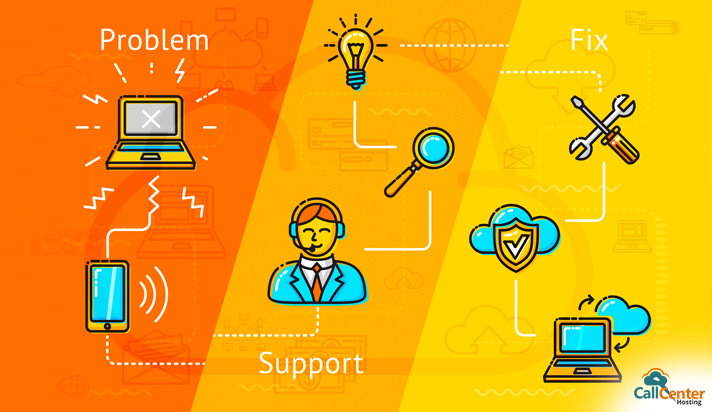 If we talk about intelligence related to customer data, cloud has always been a mainstay to support it with powerful features and unprecedented benefits. We will gradually look into how the customer support process has improved with the help of cloud with this blog.
This is how your business becomes powerful with the cloud technology.
1. You are accessible anywhere
First thing first, if your business is on the cloud then you are accessible from anywhere. Cloud is also helping in making business communication very smooth and glitch-free. In other terms, if you are completing calls on servers and staying in touch with your customers steadily, your customer support is heading in the right direction because you are overcoming the limitations of traditional telephony.
If you are taking the help of virtual call centers, then providing your customers with uninterrupted customer support get highly possible. Remote agents overcome the limitations of demographics and language.
2. You give personal experience to the customers
Most of the companies are trying to give a personal experience to the customers. Hence, it is equally necessary to know what customers look for and why. When the service delivery matches up with the exact needs of the customers, then it gets much easier to strike the right chord with the customers.
Cloud has made it possible to know the customers, individually. Cloud-based solutions are designed keeping customer experience in preference.
3. Your team works together
Many a time, your agents may find themselves helpless in responding to your customers because they don't have the right answers. In such a scenario, connecting to an expert is highly advisable instead of fumbling.
Cloud is one technology that keeps everyone on a single platform and in this way an agent can immediately connect to them for an appropriate solution.
Cloud-based solutions show the best possible ways to approach a problem as a team. Cloud-based call center solutions have no limitations in keeping the number of extensions. So, you can involve any number of experts to help the customers with a solution that they might be looking for.
4. You have better customer insights
Customer data produces concrete results when analytics is applied to it. These insights can help in shaping up the customer support process in a more promising manner because you as a decision maker know better what to keep in focus and what domain should be worked upon.
Cloud-hosted call center solutions easily integrate the CRM software, and it helps in interacting with the customers all the more purposefully with the help of some crucial information. These insights make the customer-agent communication more result-oriented and time efficient.
For example, an agent has every single customer information in the CRM if he talks to the customer multiple times. As a result, it becomes much easier to keep the customer experience seamless and streamlined according to the business needs.
Understanding the customer needs leads to finding new ways to deliver a better customer service. So, it is equally necessary to make the most out of the insights from the data.
Cloud-based call center solutions also give insights about the agent productivity, and statistical data gives real-time reports to improve the agent performance.
5. You get extensive reporting
Cloud has changed the current scenario in terms of providing some extensive reporting and making the overall customer support process driven by concrete statistical data. Every single report brings a scope of improvement with it continuously improving the overall performance of call centers.
According to this Forbes article, 60% of enterprise business leaders say customer analytics is extremely important today, and it will escalate to 79% by the end of 2020. As most of the companies look for ways to help customers with a personalized experience and that calls for tremendous work on customer data.
85% of the respondents in the HBR survey 'The key to unlocking customer insights & driving the customer experience' have said that real-time analytics improves the customer experience.

Latest posts by Vipul Srivastav (see all)