You need contact centers to have steady customer support for your business. In case if you are still banking on the old on premise-based infrastructure then it's time to check for an update and opt for an option that is delivering satisfactory customer support.
With the advent of cloud technology, the call centers have transformed. They have become well-equipped with advanced features, and it has become very easy to address contemporary challenges without any hassle. It is also true that the gravity of these challenges increases on a daily basis.
So, it becomes even more necessary to opt for a technology that is flexible and scalable. CCaaS makes this situation a lot more business-oriented and leads to customer success. Let's see why CCaaS is essential in the contemporary business scenario.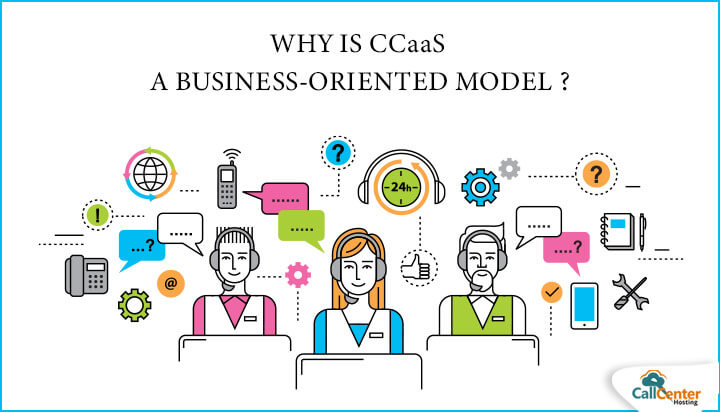 #1 Implementation
CCaaS is a cloud-based service and all you need is to have the software installed on the server or your computer, and you can access the cloud-based portal from anywhere. Some CCaaS solutions can also be accessed on mobile phones. With this type of cloud-based solution, you can also keep remote agents who can be there to support your business round the clock.
Once implemented, CCaaS provides all the features to make your customer service process highly result-oriented and equally fruitful in terms of delivering an excellent experience to the customers.
#2 Maintainance
CCaaS is a software solution that can be hosted on the cloud and can be accessed from anywhere via a login password. So, the limitations of your local system are easily overcome without any hurdle.
Here it is equally necessary to understand that the cloud-based solutions are very business-oriented, and they make a complete solution considering the smallest needs of the individual users.
Like every software as a solution service, you don't need to maintain any infrastructure on a local level. All you need to have is a steady internet connection, a computer, and a headset to execute the customer service process.
#3 User-Experience
In traditional contact centers, there are many limitations because the user has to remain dependent on the local system. To change the specifications of your local system, you need to add hardware to achieve some intended results.
Using the cloud-hosted call centers ensures a better user experience over the traditional ones because the portal is designed considering various aspects of the user needs. The portal comes with several user-friendly features to give the users a holistic experience for the customers. The portal is customizable, and you can bring changes anytime according to your specific business needs.
#4 Integrations
You can get the best results by integrating some applications with your software and ensure that your customer support system is complete in terms of achieving the best business results. Third-party integrations multiply the utility of the CCaaS software by many folds.
For example, CRM integration (Customer Relationship Management) is a very good example that suggests how customer data can bring about certain changes in streamlining the customer service process with the help of insights from the data. These specific insights help in giving a personalized experience to the customers and further help in perfect lead management.
#5 Analytics
Detailed data analytics is another benefit that gives its users many insights to bring about significant changes to your customer service process. CCaaS ensures that the users get every detailed insight related to the customer service process.
Applying data analytics ensures that your customer service has the support of data, and the user can make informed decisions to make the customer service process more customer-centric. There are many instances in the customer service environment when the insights from the data help to decide how to go further in the given business scenario. In addition to this, real-time reporting helps in achieving the intended results with specific business goals.
#6 Advanced Features
CCaaS comes with various features that make the user experience more business-oriented. Features like call recording, IVR, click-to-call, automatic call distribution (ACD), make the customer service process smooth and result oriented.
You can also zero in various features that you need specifically for some particular business results. CCaaS comes with customizable features that make your customer service process highly business-oriented. In addition to these features, you can also implement a skill-based routing, and get the benefits of an omnichannel process that makes a well-equipped platform to handle customers with ease and efficiency.
Customer relationship is built with the help of purposeful communication with the prospects and customers. Insights from the data and various customer-centric features make customer communication more result-oriented.
CCaaS helps in capturing the best possible opportunities to connect with the customers. It has a process to follow that leads to fruitful business connections.

Latest posts by Vipul Srivastav (see all)