Entrepreneurship is a 24×7 job where the person who is working on an idea has to take care of the smallest things to take his business ideas ahead. In this context, steady communication with the customers and prospects is very important, giving your customers an easy channel to connect leads to a higher number of connections.
Communication over the voice phone call is one of the most widely used channels that customers opt for to connect with the businesses.
International toll free numbers are unique in terms of getting higher inbound traffic internationally, and it leads to a higher number of conversions.
Toll free numbers are easy to use and effortless while running campaigns with different business goals. International toll free numbers come with several features that can help entrepreneurs grow their business effortlessly.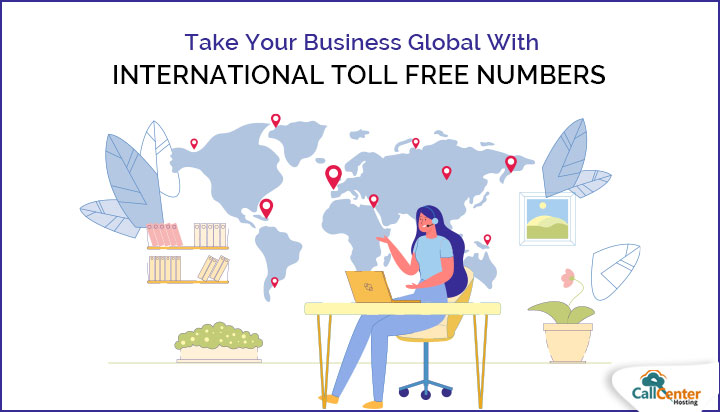 1. Brand Recognition
You can always make sure that the best of the ideas work. Getting an international toll free number gives your business solid brand recognition. Once you open a communication channel for the customers, your brand becomes more accountable towards making a steady connection with the customers. It also depicts that your business has become more responsive to connect with the customers in their final decision making.
A brand having a toll free number also remains there in the cognition of the customers for a longer time. You can also make sure to keep such a toll free number that the customers are going to remember to connect better with your business. It also adds to the credibility of your brand over others.
2. Better Customer Connections
Having an international toll free number gives your business mass access in terms of connecting better with overseas customers. You can land the incoming calls as per your business needs. You can also route a number of calls to the available agents as per the existing call volume.
You can easily give your international customers a contact number, and you can further route the calls to your landline, PBX, or mobile phone. In this way, it helps you provide a seamless experience that the customers look for while availing the services in a frictionless way. Entrepreneurs can also ensure to make use of the call forwarding feature to take their business on the move.
In a start-up, it is essential to be available for your customers round the clock. If the business owner is using an international toll free number, they can route the call to the remote agents.
3. Unlimited Channels
International toll free numbers are free of charge, and customers can easily connect with the business with less holding time. Since it uses the cloud-based model so there can be unlimited channels. The benefit of having unlimited channels is it becomes less likely that the line remains busy when a customer calls.
It reduces the downtime and also allocates the incoming calls to the available agents. It leads to less call wait time, and the possibility of busy lines is also reduced. In this way, customers can communicate with the agents immediately. Most of the customers don't come back when they find the line is busy or if they have to wait for a longer duration of time.
You can also route the calls based on the timezones. It means all the incoming calls coming from a particular timezone can be routed to the agents with specific skills or accents. It adds to the personalized experience of the customers and makes it more seamless. And there is less possibility of a mismatch between the needed service and the served ideas.
4. No Call Charges
For your international prospects, a channel that is free of cost is more likely to bring better customer traction. International toll free numbers also ensure the virtual presence of your business.
In this way, it becomes likely to get calls from those customers who are seeking a service from a local provider. So, you may be located in a different country, but because of the international toll free number, your business is not going to miss out on some of the promising prospects of your business. Every customer who doesn't have to pay for placing a call to the business will not give it a second thought before connecting.
5. Detailed Reports & Call Recording
For every entrepreneur, it is essential to know which of the business prospects come with higher possibility. The detailed reports give insights to run successful campaigns with your toll free numbers. In the same way, recorded calls also bring insights to improve the response to the customers.
As an entrepreneur, it becomes essential to keep working towards improvements. One should keep looking for the issues that are not contributing to your business. The aim behind the data reports and call recording is to measure the level of productivity.
Entrepreneurship is all about implementing new ideas to bring about perpetual changes to your business ideas and add things to it with a data-driven strategy. It becomes essential to use every possible tool to give your start-up idea a real boost.
In this context, international toll free numbers come with many business-oriented features that give a steady direction to your startup. In a way, any business idea that has a customer base spread across different countries, international toll free numbers make it more likely to gain traction.

Latest posts by Vipul Srivastav (see all)