In a customer service environment, it becomes essential to check the quality of the customer support because the challenges in the customer support environment vary from time to time. While addressing these challenges, it is not always easy to maintain quality.
It is essential to understand that the quality of service depends on how we track the progress of various customer service processes and bring about continuous changes to make it more steady towards quality customer service.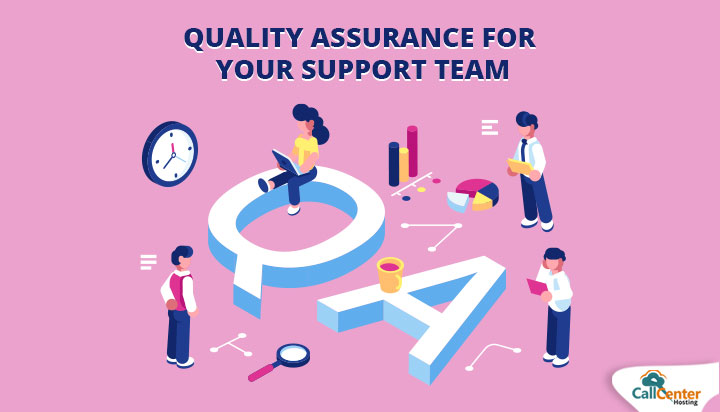 There are several ways you can ensure the quality of your ongoing customer support. However, it is very likely that if you don't have a plan, then you can miss out on certain ideas that are necessary to cover while assuring the quality. Let's look into it with details to understand why quality assurance is necessary for steady customer support.
1. Deciding the Process
This is the very first step in making your customer support what it should be. Here, it is equally necessary to estimate your available resources and ensure the quality of your process and ensure it is heading in a result-oriented direction.
In a customer support environment, it becomes essential to ensure that the predefined process is covering the daily needs of customers in a result-oriented way by resolving their issues perfectly. For example, you should ensure you always have a plan to redirect the calls to the available experts when the agents are not able to resolve the customer query.
2. Defining Good Customer Support
Before checking the quality of your service, you should be very clear about what good customer support stands for. You can define various KPIs (Key Performance Indicators) to measure and analyze the overall performance. These KPIs may vary for different customer support environments. So, pick only those metrics that are helpful to your intended result.
For example, average handling time and first call resolutions are two different metrics. In different business scenarios, the priority of different metrics may change according to the respective business needs.
Deciding on these KPIs can be comprised of technical as well as soft skills. Technical skills may comprise doing various manual tasks that one needs to do in your daily works. In the same manner, soft skills can be defined as being able to provide customers with personalized communication and build a lasting relationship with them.
3. Analyzing the Conversations
Analyze the recorded conversations to find out where exactly the agents are lacking in delivering their best to the customers. Such analysis also leads to some data that is meaningful to bring about some crucial changes to ensure quality in your customer support process.
Real feedback oriented with data helps in making your agents more efficient towards providing the best possible results. You can also make sure that your agents are following the best practices to deal with the customers and help them with the right responses during customer support.
4. Driving the Agents towards Excellence
Analyzing the agent interaction with customers also leads to various insights that further help in grooming the agents towards better capabilities. Working on your agent skills leads to a well-equipped team that handles the customers with sheer efficiency.
While assuring about the quality, it is equally necessary to ensure that the agents are in continuous touch with the experts.
A product or service gets developed in various phases, and it witnesses various types of advancements in multiple phases. In that case, the agents may need continuous training from time to time. Pushing them towards expertise with the help of continuous training helps in getting good results.
5. Feedback from the Customers
Talk to your customers and get feedback to find out where exactly your customer service is lacking in delivering the best possible customer support. Customer feedback helps in getting the best performance from the agents. Because you can guide your customers according to the feedback received.
The customer satisfaction score decides how good is your ongoing customer service. Depending on this score, you can easily zero in various aspects that need improvement. Address your customer issues in a way as they are looking for. Agent response that is immediate and appropriate help ensure a good customer satisfaction level.
6. Choose Your Metrics Wisely
It is essential to understand that the parameters you choose should lead you to the best possible results. Once you have decided on the metrics, you can focus on particular numbers that are going to give you the results that you need to see. By choosing your metrics consciously, you will get more opportunities to ensure the quality of your customer service. Work on those metrics towards improvement, and you can easily deliver good results.
7. Hire the Right Employees
Picking the right people for the job is one of the best ways to ensure quality. You don't need to put effort to get these people trained towards an intended outcome. So, make a list of the qualities that you want to check in your employees. You should ensure the qualities you are looking for in particular situations.
There's one thing that needs to be taken care of, and inherent potential is one of them. If the potential is there in them, then they can be groomed further towards needed skills. One can ensure the quality with the help of the right deployment of agents. Skillful agents in the right role lead to the best results.
All in all, ensuring quality in your customer service is not an easy task. You will have to take care of several aspects aforementioned that are going to play an important role in giving a holistic approach to your customer service process. Quality is a matter of using the available resources technical or human in the most productive manner to achieve intended outcomes.

Latest posts by Vipul Srivastav (see all)