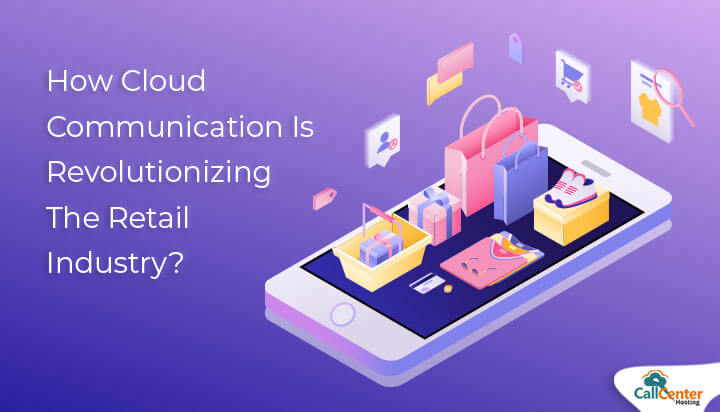 Every industry today agrees that the cloud is not only a powerful, flexible, and reliable platform for office productivity applications but also an equally compelling platform for business communications solutions.
Cloud can integrate the best communication solutions with Office 365, Salesforce, and other cloud-based-software as a service (CSaaS) solutions.
But What Is Cloud Communication?
According to Wikipedia, "cloud communication refers to internet-based voice and data communications where the telecommunications applications, switching, and storage is hosted by a third-party outside the organization that is using them."
It includes multiple communication methodologies like voice, email, chat, and video in an integrated fashion.
The retail industry can utilize the following services available under cloud communications-
PBX (Private Branch Exchange)
SIP Trunking
Call Center Solution
Interactive Voice Response
Voice Broadcasting
Call Center Telephony (CTI)
Cloud communication integrates real-time communications (such as voice telephony, audio/video conferencing, instant messaging) and non-real time communications (such as email, voicemail, and fax).
The cloud gives enterprises more powerful communication solutions that-
Drives employee productivity
Provides scalable communication
Offers flexibility
Reduces operational and capital cost
Every industry is seeing a huge potential with cloud technology, and most of them are using it to their advantage.
Does your retail business use cloud communications to drive business growth? As retailers aim to deliver omnichannel experiences, the retail cloud market is experiencing rapid growth.
What's The Driving Factor Behind Retail Cloud Communication?
Cloud technologies allow software development at low costs. The retail industry demands new mobile e-commerce solutions, analytic packages, and new functionalities that can be deployed easily.
Let's look at the benefits of cloud communication for the retail industry.
1. Improves Customer Experience
Cloud communication allows retailers to serve customers more efficiently and effectively. The cloud-based platform unifies communications between stores and call centers seamlessly.
For example, if a customer calls a local store, his call can be routed to a contact center agent who can answer questions related to product features, store policies, and inventory.
Moreover, intelligent call routing allows the calls to get routed to agents having expertise in customer query related fields.
Cloud communication solutions also provide analytics to track the performance and speed of each agent. This helps in providing the best practices and training to the reps so that they deliver better customer experience.
2. Reduces Operational Costs
Cloud technology is a preferred solution due to the cost at which the service is provided. Businesses can save a significant amount of money as the cloud eliminates the need to purchase, update, or manage systems.
Thus cloud communication cuts down the hiring costs of employees for an in-house environment.
Unified communication solutions easily integrate different communication channels and provide storage that results in further price reductions.
Also, being flexible and scalable, cloud communications make a perfect fit for the retail industry where workforces shift locations and change in size.
3. Boosts Business Growth
On-premise systems operate independently; therefore, new phones, locations, and hardware capacity can become expensive.
On the other hand, cloud communication makes it easy for retail businesses to expand geographically with more locations in a pocket-friendly budget.
Cloud also enables better communication and collaboration between departments. Retail stores can benefit from effective tools to communicate with colleagues and employees from other departments.
Unified communications provide real-time access to business insights through reports and analytics. These insights can be used by retailers to streamline processes and increase efficiency.
4. Facilitates Communication Between Departments
Cloud-based technology enables retailers to access industry-leading inventory processes and make things less complicated for managers and staff.
This is because retailers use the cloud to bring multiple communication technologies on to one platform.
Cloud-based communication systems can be set up to integrate the capabilities across various modules.
For example, retail businesses can easily manage customer information through hosted voice services that integrate with CRM and VoIP systems.
Hosted communication tools like chat allow retailers to get in touch with employees of another department quickly.
5. Aids In Supply Chain Management
Retailers consider the supply chain a prime area of focus, and thus investing in a cloud communication platform can be of great benefit. Cloud communication allows retailers to streamline the supply chain process significantly.
Most delays in the supply result from human involvement and can hinder the prompt delivery to the customers. With cloud computing, retailers can have an enterprise-wide supply chain visibility. Cloud allows retailers to handle their business without stock-outs or high inventories.
6. Improves Customer Inquiry Process
Cloud communication systems have facilitated the customer inquiry process to a large extent.
In today's times, the retailers are receiving customer queries across multiple channels that are from web chat, emails to social media. Thus, cloud communication offers a seamless customer handling process in the store.
Contact center solutions can provide a single integrated view of the customer across all channels. Cloud facilitates and smoothens the process of customer queries and offers multiple communication channels like emails, chat, voice.
Benefits Of Cloud Communication For Retail Industry Takeaways
Improves Customer Experience
Reduces Operational Costs
Boosts Business Growth
Facilitates Communication Between Departments
Aids In Supply Chain Management
Improves Customer Inquiry Process
In addition to the benefits, as mentioned above, cloud communication provides many other benefits for the retail industry.
These include flexibility, scalability, smooth shopping experience for the customers, improved POS (point of sales), managing inventory, and better insights into business performance.
How Your Retail Business Can Get The Best Cloud Communication Service?
Retailers now consider customer experience as a key differentiator. Exceptional customer experience can set a business apart from its competitors through intelligent interactions between employees and customers.
With cloud engagement solutions, businesses can arm employees with the tools they need to communicate, collaborate, and access valuable data.
Cloud also allows the employees to access the tools required to communicate with each other and deliver outstanding customer service efficiently.
If your business also considers storing the information and data on the site, it may be time to consider moving to the cloud.
Cloud's impact is tangible in almost every sector of the business industry. Retail growth is measured when businesses can get shoppers to buy their products and turn them into a frequent customer. Retailers today are increasingly using cloud communication to improve the customer experience at every touchpoint.
Now it's time to say goodbye to the hardware failures and replacement cost, as cloud provides all the necessary functionalities of expanding storage and adding resources.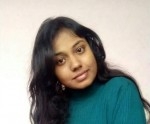 Latest posts by Kritagya Pandey (see all)