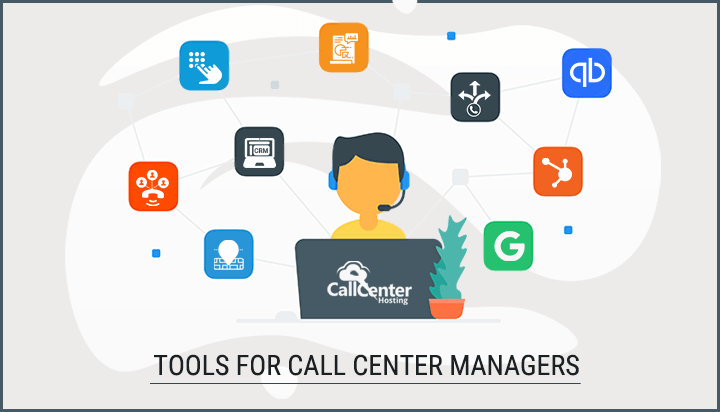 The task of a call center manager is not merely managing a team but also look for options to innovate and improvise things towards better results. It's a responsibility to manage people, but making an environment where they can excel is altogether a different skill.
That calls for a sincere approach to address the needs of agents and helping them with the best possible assistance, be it technical or interpersonal.
Here, we will be discussing some tools that call center managers should consider to bring the best out of their call centers.
1.  Call Center Software
Call center software is a must to run a cloud-based call center. Ever since the cloud technology has come to the fore, it has become a lot easier to maintain the inbound and outbound workloads of the call center. It is also easy to manage every important customer information on the cloud and that can always be retrieved whenever required.
Call center software is also capable of some important business application integrations as this integration enhances its utility. In addition to this, the cloud-hosted call center software can be accessed from anywhere, and it helps the call center manager to do business on the move.
Most of the businesses are now shifting towards cloud-hosted call centers. Also, known as virtual call centers, they are mainly software hosted on a secure server that is accessible fro anywhere. Virtual call centers support the integration of tools and business applications and are highly productive as they are flexible, scalable and technically advanced.
Other benefits of call center software are flexible and easy to scale, that make your call centers versatile and result-oriented.
2. Predictive Dialer
Every call center needs to have a solid infrastructure for the inbound and outbound calling. In this context, to address the outbound calling needs, predictive dialer is one of the essential tools that help in dealing with many challenges that occur in the call center environment.
Predictive dialers help in agent utilization as it connects the customer call to the next available agent immediately. It uses an algorithm to analyze the average handling time of the individual agents and places the outbound calls immediately when the ongoing call is about to finish.
A predictive dialer can also be customized as per the need of the outbound campaigns. The outbound calling ratio can be set according to agent availability.
Call center managers should think about the cloud predictive dialers as these tools are very efficient in outreaching customers based in different time-zones. It comes with voicemail detection, call recording, and call monitoring features.
2.  CRM
CRM (Customer Relationship Management) software is an unavoidable tool to maintain all the customer information in one place. CRM software saves all the history related to communication that happened with the customers in the past.
There are several third-party CRM software available in the market that comes with various features. You can also select those features that are helpful to your business and make sure that you focus only on your particular business needs and find a CRM software that suits you best.
In addition to this, the CRM software also helps in understanding the customers. The call center manager can easily deduce various insights from the customer data and understand customer behavior.
3.  IVR
IVR (Interactive Voice Response) is one of the most important tools in the call center environment to give customers a virtual receptionist. IVRs can have multiple options for the callers so that they can find information or connect to an extension by themselves.
IVRs also help in handling the high call volume, as incoming calls can be directed to a well-designed IVR that can give the needed information to the customers without delay.
You can also customize your IVR according to the need of your business communication and other requirements such as connecting to different departments or to give some recorded information to the callers. IVR is used to direct the caller to the needed information without much hassle.
Different types of businesses can use IVR differently and can make the most out of the available information.
4.  ACD
ACD (Automatic Call Distribution) is essential to route all the incoming calls to the available agents. In a call center environment, the call volume is a varying factor, and it changes according to the dynamics of the business and also depends on the season. For example, travel businesses receive a higher call volume during the holidays.
In such scenarios, it becomes essential to deal with the calls more efficiently. ACD is an effective way to make the most out of your agents and get some promising results to achieve the highest level of productivity. The efficiency of a call center is driven by an effective distribution of calls.
5.  Skill-Based Routing
Customers look for an appropriate and immediate solution. So, it is essential to connect the callers to the right agent who has the right information. In this context, skill-based routing is a big help because it connects the caller to the agent with the right skill and knowledge.
It also improves the first call resolution that further leads to satisfied customers. Skill-based routing is also essential to provide the callers with the essential answer in the least possible efforts. For a business that deals with various domains of the product or service, skill-based routing becomes unavoidable.
6.  Real-Time Reporting
It is unavoidable because it carries various necessary insights that are going to help the customers productively. Real-time reporting is also essential to make the most out of the agent potential and give it a boost with strategic steps.
In addition to this, real-time reporting also helps in getting insights about individual agents in understanding where exactly they can bring some improvement and deliver better. There are certain instances when the manager needs to look at the scenario in a holistic manner. In that case, these detailed reports provide a complete overview of the ongoing call center processes.
In order to effectively manage a team, call center managers need to have progressive and advanced tools, which not only improves team productivity but also improve team productivity.
Is there any tool you would like to add to the list? Please share in the comment section below.

Latest posts by Vipul Srivastav (see all)