Every aspect of our life is reaping the benefits of cloud computing in some or the other way. With the power and backup of cloud storage and computing, our lives have become entirely digitised.
You don't have to go far away to understand the importance of cloud; if you are a regular smartphone user or have used Google, Instagram or any other app than unknowingly you are on cloud already.
With cloud technology you receive immediate results, Google instantly backs up all your data into the cloud to constantly support you in your daily activities. It is certain that you cannot keep yourslef away from the cloud in contemporary times, be it anywhere in any firm.
The cherry on the top is its "environment-friendly" aspect which makes cloud computing all the more important to adapt.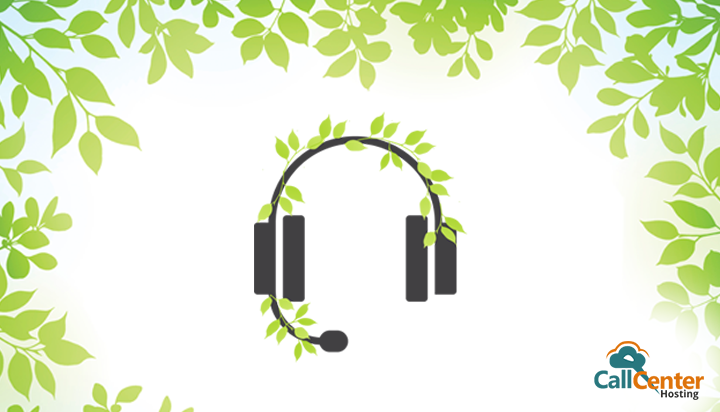 Call centers now understand the power of making the shift to the cloud, and many of them have already started leveraging its benefits.
With the exponential growth of customers in the online platforms, the demands for call center is proportionately increasing too. Moreover, this expansion in online customers has pushed call centrers to constantly strive for innovation in order to cater to all of these customers.
They have started opting for cloud technology leaving behind the traditional way of running a call center.
Let's look at how today's call centers are going green and are fulfilling the contemporary customer demands.
You Don't Need Extensive Infrastructure
Earlier, traditional call centers needed an extensive infrasrtucture of physical devices and a large room with a cooling system and cleanliness to run the servers.
Additionally, to run these massive servers, a constant supply of heavy amount of electricity was a big cause of worry for the companies.
Moreover, as we know, the way most of the world is producing electricity throughout the world is causing harm to the environment except if natural resources are generating it.
Whereas Cloud-hosted call centers do not need a large amount of extensive infrastructure to run their customer support, few basic devices and a good internet connection to run cloud-hosted application make you capable enough to start your customer support.
Cloud-hosted call centers also bring autonomy as the working of the call center is now infrastructure independent, and so it allows the employees to work remotely reducing the heavy resource consumption of offices eventually causing less harm to the environment.
Use of Renewable Energy
Cloud data centers have started leveraging renewable energy to power up their data centers. Big companies such as Apple, Google, and Facebook are already working in this direction to reduce the impact of carbon footprints on the environment.
Call centers are 24*7 running business consuming a large amount of electricity and fuel constantly.
Switching to cloud call centers can reduce this damage to the environment without hampering your business connectivity and productivity.
Lesser Use of Equipment: Lesser IT Waste
The traditional call centers were hardware based, and this asked for the use of various devices and gadgets, but after a certain period of time these devices don't remain usable and turn into waste.
Plastic has already been a threat to the climate, and IT waste has only worsened this scenario.
The virtual format of contemporary call center has helped a lot in transitioning to an environment-friendly scenario.
Cloud-hosted call centers don't need many devices to run; the call center software is designed in such a way that every needful feature is available on your desktop. You don't need a separate device to dial a number or a computer to analyse the customer data.
Call center software handles everything on its own. It has features such as one-click dial, and the software does the thorough analysis of the customer related data.
There is no point in using several devices unnecessarily if just one is equipped enough to cater to the required functions. If we opt for cloud-hosted call centers today, then its results would be visible in the longer run.
Server Virtualization and Multitenancy: Great Advantages
The growing number of customers has experienced an alarming upsurge in the demands.
The reason behind it is the customers have become more specific and more impatient with time. For the same reason, the customers reach out to the agents for support with utter urgency or to get an appropriate business solution immediately. So, the role of call centers has become much more important.
In Server virtualisation, the server administrator divides the physical server into multiple isolated virtual environments. Now, the same server can be used by multiple users simultaneously, and it helps to minimise the usage of electricity.
In the same way, multitenancy is also helping the current scenario, meaningfully. In multitenancy, the software runs on a single server and access of configuration and management is given to multiple users simultaneously.
So, the cloud-hosted call centers are using every way and mean to help the climate with powerful solutions.
This Cloud is Green
Call centers have come a long way in the passing decades, and they have seen a great many changes in this course of time. With the arrival of cloud technology, call centres have become more equipped to deal with customers.
Cloud has helped the call centres to take every step in tandem with the contemporary needs of the customers. It not only understands the needs but also give fruitful solutions with cumulative advantages for everyone, including the environment.
Call centres are turning out to be environment friendly now, and the most significant reason behind it is, they are walking on the shoulders of the cloud.

Latest posts by Vipul Srivastav (see all)