Anything ongoing can be improved upon with the help of technology, and the cloud is one such technology that has influenced masses far and wide. And when we talk about its influence in business, it has brought in new innovations leading to better customer experience and steady business growth.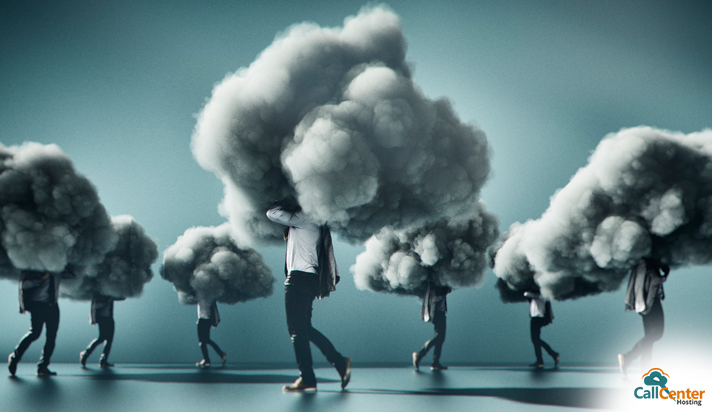 But if we focus on customer experience solely then the thoughts related to it, converge to not merely fulfilling the customer needs but also providing them with great customer experience.
For those additional benefits, cloud has come up with more ideas to slash the cost and time while taking customer engagement to new heights and eventually leading a better customer experience. Let's look at how it is happening.
1. Access to the Customer Data
Cloud offers a platform for customer data and any authorised person in need of it can access it from anywhere. The cloud-hosted call centers integrate with the CRM, and the agents have every needed customer information handy.
With the help of analytics, customer data can be analysed leading to some meaningful results. These results further help in making strategies to deliver a much better customer experience.
For example, if a group of customers has shown their interest in a particular kind of service as shown in the customer data results, then new strategies can be devised with keeping the customer experience related to those services in focus and execute the strategies.
2. Apt Proactiveness
Customers look for customer support where they have to invest the least amount of time. Cloud-hosted call center software integrates with several business applications such as Customer Relationship Management (CRM) and Enterprise Resource Planning (ERP).
These applications enhance the overall potential of the cloud-hosted call center because the agents can easily use the available information in the customer-agent conversation and influence the customers with solution-specific ideas.
An appropriate reply in the least amount of time is what customers look for. Another advantage of the proactiveness is that it encourages loyalty from the customers and makes them willing to use the customer support service once again.
3. Reduced Call Waiting
The traditional call setup doesn't allow more than a certain number of simultaneous calls. Once the available phone line is engaged, a customer calling the same line falls in the call waiting line despite an available agent.
Another benefit that comes with cloud-based call centers is the number of simultaneous calls. Calls completing on cloud don't have any limitation in terms of the number of simultaneous calls.
It reduces the call waiting for the customers, substantially and, also utilises the agent availability to the best possible level. Call waiting time is inversely proportional to the overall customer experience.
4. Personalized Experience
Remember the last time you spoke to an agent and the agent had all the needed information with him because it was retrieved from the previous conversation you had with them. The technology that is working behind it is cloud.
Cloud is a flexible and fast technology that supports the need of saving the data and its retrieval without much effort when one needs it.
Cloud-hosted call centers make sure that every vital information related to the customers is stored on cloud-based servers so that the agents could retrieve it anytime from anywhere. It helps in knowing the individual customers personally and understanding their needs thoroughly.
Once understood, delivering a good customer experience becomes an easier and strategic approach.
5. Customer Engagement
A good customer experience cannot happen without meaningful customer engagement. First thing first, if a customer is investing his time to get some benefit out of the customer service then the strategy should be to make this process more seamless.
For example, most of the customers when connecting to agents want to finish it immediately with a plausible solution. Meanwhile, when the call is routed to the available agent, and the customer encounters a hosted IVR with a message popping up telling him/her about the unique propositions provided by the product or services, the customer becomes more aware of the services rather than just listening to music on hold.
6. Focus on Customer Loyalty
It is necessary to understand that every step taken in the process of customer support involves some data analysis. And data carries information that can help in making loyal customers for your product or services.
But before achieving customer loyalty, it is equally necessary to work on every aspect of customer experience and make it better in every way possible. Here the role of information related to customers plays a vital role to fulfil customer needs.
For example, a customer contacting customer support and finally finding a solution after substantial efforts may not be willing to seek customer support the very next time. But if the whole process of finding customer support is made seamless and streamlined, the customer has reasons to come back and find a needed customer solution.
Cloud-hosted call center solutions carry all the potential in terms of optimizing the customer support with a powerful use of resources, be it human or technical. Anytime, anywhere access to the cloud-based solutions make a secure, and common platform for all the employees to create an experience for customers that is unprecedented.

Latest posts by Vipul Srivastav (see all)