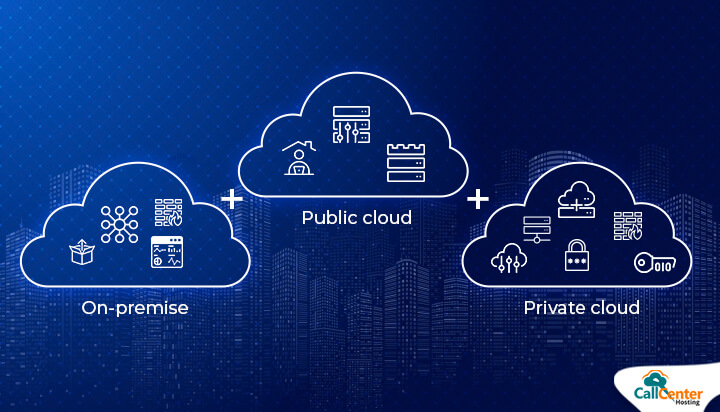 This is the age of the Internet. Companies are increasingly going digital and embracing new-age technologies like IoT, so you cannot risk being left behind. 
But every business has its own challenges and making a successful transition may be more difficult for some. If you find that you're unable to commit to a cloud infrastructure right away, why not give the hybrid model a try?
A hybrid cloud infrastructure essentially lets you have your cake and eat it too. So, what exactly is it? Let's dig a little deeper.
What is hybrid cloud infrastructure?
When you see the term "hybrid", you imagine a mix of things. That's what we're talking about here as well—a combination of your on-premise data center with public and/or private cloud.
The applications and software can be deployed on any part of the infrastructure, depending on your firm's tactical requirements. So, you may store certain data on your private cloud, others on your traditional data center, and then some more on a public cloud. 
This way, you can move your workloads around as your needs change, and use a variety of devices to suit your preferences. 
It's notable that a hybrid cloud is different from a "multi-cloud". In the former, we create a single space that allows on-premise and cloud operations. A multi-cloud set-up could have two or more public clouds without a private or on-premise infrastructure. 
Now that we've discussed the term itself, let's explore what benefits it offers to organizations big and small. 
Benefits of hybrid infrastructure
As we've mentioned earlier, a hybrid set-up allows you to reap the benefits of traditional as well as different modern communication suites. This is especially beneficial for organizations that may have already invested in traditional telephony solutions and are now worried about their investment in the physical infrastructure.
To name a few of these advantages:
1. Flexibility
Of course, the number one benefit of a hybrid cloud lies in the flexibility it offers to businesses with different end-points and needs. 
As we've discussed before, if you already have a traditional on-premise set-up, you can add cloud to it and be up and running in a matter of hours. You can shift between these servers as and when needed, and for different kinds of tasks. 
For example, you can do urgent tasks that need high-speed access to data on your private cloud on-premise.
At the same time, you need not fully commit to a single vendor till you've decided where your needs are best met. Therefore, you can work at your own pace with a system that manages itself accordingly, even on short notice. 
2. Expense management
Setting up an on-premise data center can be very expensive. You face costs for the heavy infrastructure, its installation, and configuration by IT experts, as well as timely maintenance. 
Especially for a business with a huge number of employees or one with distributed offices, running huge centers or multiple small centers can lead to exorbitant costs. 
A hybrid cloud model poses an ideal solution to this dilemma. You can shift the most costly operations to the cheaper cloud alternative. Without huge machinery and labour costs, your cloud solution provider only charges you for the features and services you actually use. Thus, you are better able to monitor and control your spendings.
In fact, cloud providers also offer online portals where you can check your plans, used data, and the balance left in real-time. So, you have total transparency when it comes to payment.  
3. Agile and scalable solutions
Because of the high flexibility a hybrid infrastructure offers, it's also highly scalable. You can add cloud servers or remove them as per requirement. Even within a cloud, you have the option of adding as many communication lines as you need or opting for features on the go. 
So, as your business grows and you recruit more employees, you can accommodate them easily on the cloud. They can use any device they'd like to connect to the office system, and all the necessary tools and information will be at their disposal. This means you wouldn't need to spend significantly to get additional hardware for new employees. Similarly, in low seasons, you can reduce your costs by scaling down operations. 
4. Data control and privacy
The cloud is perfect for big data storage and analysis. Its huge capacity and intelligent automation make it easy to store and analyse valuable business and customer data to get meaningful insights. 
For example, you can automatically generate performance reports, highlighting the relevant metrics, and use them to improve your strategies. 
Another major consideration for modern businesses is privacy. Cloud solutions offer maximum protection against scammers, hackers, and any other cyber threat. You have end-to-end encryptions, multiple firewalls,  authentications, and data backups to secure your system. 
Certain cloud-based solutions like number masking and dynamic caller IDs also ensure that the parties involved, i.e., consumers and agents, can protect their private numbers.
Moreover, with a hybrid model, you get to decide what to keep private. You can keep certain data on your private cloud for maximum security, and other general information could be stored on a public-based server.
5. Cloud bursting
Get yourself an office system that completely accommodates all your needs. In cloud bursting, you can expand your workload to a public cloud during demand spikes and scale back to the original server when the peak is over. 
So, the extra resources and storage are only "rented" when the need arises. You can significantly save on costs and effort with such a model in place. 
6. Disaster recovery and business continuity
If 2020 has taught us anything, it's that disasters come unannounced and in plenty. The brand you've built carefully over the years can come crashing down if you don't prepare yourself well. 
A traditional on-premise set-up cannot handle any unexpected loss of data, say, because of an earthquake. If instead, you store essential data on the cloud server, you can use multiple backups to ensure that you're always in control of your data. 
You're also guaranteed business continuity since you can scale and manage your cloud-based operations anytime and anywhere. 
So, we've established that hybrid cloud offers a variety of benefits over a traditional set-up. But how do you know when is the right time to sign up for one? 
Look out for these signs in your business needs: 
You have dynamic workloads for different teams, locations, and sensitivities. Or perhaps you have on and off seasons in your work cycle. 

You cannot make a quick all-at-once transition to the cloud, so you want to move incrementally.

If you're a new business and can't predict how your needs will change in the future, a hybrid cloud infrastructure can offer you flexibility. 

Your needs aren't being fully met by your current infrastructure, so you can try a mix of both set-ups to gauge your preferences. 
Conclusion
Hybrid cloud infrastructure offers benefits for businesses of every size and type. In a world that's increasingly going digital, the hybrid model gives traditional firms a chance to tread the waters before diving in. 
It essentially gives reluctant companies some breathing room to make the transition slowly and surely. If you also have concerns about changing your business model suddenly, you can avail yourself hybrid infrastructure benefits—without burning a hole in your pocket. 
Get to know more about cloud technologies and how they can help in business processes and productivity today! Call us at 1-800-346-4974 or drop an email at sales@callcenterhosting.com and we'll be right with you.
Latest posts by Diksha Gusain (see all)