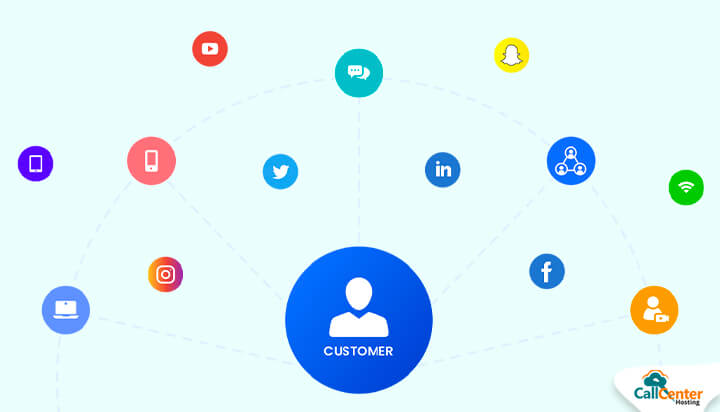 Out of sight, out of mind. 
This may be a cliché, but there's no denying that it often holds true. 
As a business, your goal is to maintain strong relationships with your consumers. But can you do that if they forget about you the minute your interaction is over?
This is where omnipresence comes into the picture. 
Communication has become easier with the advent of cloud technologies, so you're expected to proactively reach out to your clientele. Before we get into how you can do that, we first need to understand what exactly omnipresence is.
Understanding omnipresence
Let's start by looking at its etymology. It's derived from the Medieval Latin term omnipraesentia—omnis meaning "all" and praesens meaning "present". This means we try to establish our presence everywhere and stay available via multiple avenues. 
For businesses, this refers to the use of modern cloud communication tools to reach more and more people online. And more importantly, to allow customers to reach you through whatever medium they prefer. 
Do they want to call an agent? Drop a message or email? Or slide into your social media? Say yes to all. 
Does it sound like too much work? Maybe to some people, sure. But let me tell you why you really can't do without omnipresence in today's market. 
Why do you need to use it?
It's quite simple. Firstly, it shows your eagerness to connect with people on multiple platforms.  Secondly, it depicts your dedication to being accessible everywhere, thereby adding to your brand presence. You're able to prove your credibility and trustworthiness. 
At the same time, you can curate a more meaningful relationship with your customers by staying in constant touch. Think of it this way: whenever a need arises, your brand should be the first that comes to their mind. 
Of course, by keeping in touch, we don't only mean direct communications. You also need to provide engaging content and offers, host activities, invite responses, and so forth. 
We'll teach you how to do this—and more—so keep reading our tips.
Tricks of the trade
Be available on different mediums
This point may seem obvious but it's important enough to garner a second mention here. After all, this is what omnipresence is all about. So, what kinds of mediums are we referring to? 
Anything and everything a potential customer might use. 
Customers have long used a telephone or a mobile phone to call up businesses directly. Cloud communication further facilitates this process. 
You can employ a virtual or toll free number for your business. This allows you to hold high volumes of conversations at minimal costs, save up on bulky infrastructure expenses, use a personalised number to represent your brand or have a memorable contact, and much more. 
Apart from telephony, your email responses need to be quick and accurate. You could use an AI-powered chatbot to take care of basic queries. There should also be relevant and reliable information about your business available online, preferably with detailed FAQs and forums that connect agents and customer reviews. 
You can move on to the next steps only once these basic practices to omnipresence are secured. 
Eliminate any device restrictions
In today's digital world, there's no paucity of devices people use on a daily basis. The kind of device they primarily use depends on their lifestyle and preferences. 
Sure, you can conduct studies and try to figure out the devices favoured by your specific target demographic. For example, students and business owners would have different digital habits. However, you cannot risk losing a portion of your clientele this way. 
Therefore, make sure that your resources are accessible on any and every device. Your web pages should be optimised for all––smartphone, tablet, and laptop. You can also use cloud-based SMS broadcast and auto-email notifications to keep the connection going. 
As a business manager, when you select your communication service provider, do check for multi-device compatibility and convenient UI in their solutions.
Build a strong and engaging brand website
While it's important to be present in different places, you need to have a strong online 'headquarter' of sorts. This refers to your brand's website. 
Whatever you post on social media may inform people about your business, but essentially the posts exist on a third party—they're not yours to do anything with freely. Besides, who can trust a firm that doesn't even have an authentic and attractive website? 
This can actually make all the difference. Does your website look boring, filled with text, and has no engaging UX elements? Does it look nice but lacks targeted and general information? If the answer to any of these questions is yes, you need to make some changes now.
Invest in a good UX design and ensure your website is attractive as well as easy to navigate. It's also a good practice to use conversational text and write the content keeping buyer personas in mind. 
Using a chatbot enabled by cloud communication API helps invite customers in. It can cater to visitors who have queries about your product and services. Keeping communication open right from the start will make you appear customer-friendly and will strengthen your brand image.
You also need to have a strong resource centre with any information the customers might require. Make your webpage a one-stop solution for any rising needs and a good first step in your clients' purchase funnel. 
Make sure your posts are directing the readers
Even the most impressively written content has no meaning if it doesn't encourage consumers to take some action. You need to direct the readers with targeted posts. 
How do you do this? 
You can use call-to-action (CTA) lines like "Contact us at [xx-number-xx] to get a free expert consultation". Using a toll free number here further encourages calls as it's at no cost to the caller. The use of an 1800 number also establishes your credibility as a professional business. 
Additionally, you may offer free resources to readers by allowing them to subscribe to your newsletter. You can also recommend related articles they can read further.
Another common practice is to provide a web form at the end of your page or post. You can let people fill in their details and contact you or schedule an appointment. 
While we're talking about content, it's worth noting that it should be of different kinds. Some people are in need of detailed information while others prefer small snippets of witty content. 
So, be it an extensive whitepaper or a Twitter post—make sure you write appropriately for every context. 
Maintain uniform social media presence
As we mentioned earlier, people from different demographics or locations are likely to use different platforms. It's not enough to only increase traction on LinkedIn since it's a professional connection site. You should ensure an equally dedicated presence on all social media platforms.
Have your social media teams handle engagement on Facebook, Instagram, Youtube, Snapchat—even Tiktok. Yes, sometimes, connecting to the young and excitable demographic can be highly beneficial. 
Additionally, you can benefit from influencer marketing and make sure your voice reaches more people, via someone they're familiar with.
Don't just stick to your own brand always
Succeeding in a market is about more than creating the perfect product at reasonable prices. It's about communicating—with the clients, for sure, but also with your contemporaries. 
This doesn't mean you go soft and let your competitors steal your clients. It means wisely collaborating with other brands that complement yours to arrive at mutually beneficial results. 
In the context of omnipresence, it means you should allow and initiate guest posts. This way, your words will reach the clientele of another firm as well. You can help out another site while bringing attention to your unique offering at the same time. 
You can also collaborate with a related, but non-competing brand to bring integrated solutions to both your consumer bases. This way, you can provide much better services to an even larger number of people. 
Conclusion
The moral of the story is, (to quote a certain sportswear brand) Just Do It. 
It's absolutely essential to establish your brand these days and omnipresence is the name of the game for modern marketing. It showcases your business as professional and dedicated on different platforms. 
So, wherever your client goes, they're reminded that you're there to cover any need they may have over time. With cloud communication tools, this process becomes so much more convenient and empowering for you and your customers. 
No need to wait any longer. Dial-up 1-800-346-4974 or send an email to sales@callcenterhosting.com right now to get your cloud journey started. You can get more information about becoming omnipresent by contacting our representatives. 
Latest posts by Diksha Gusain (see all)