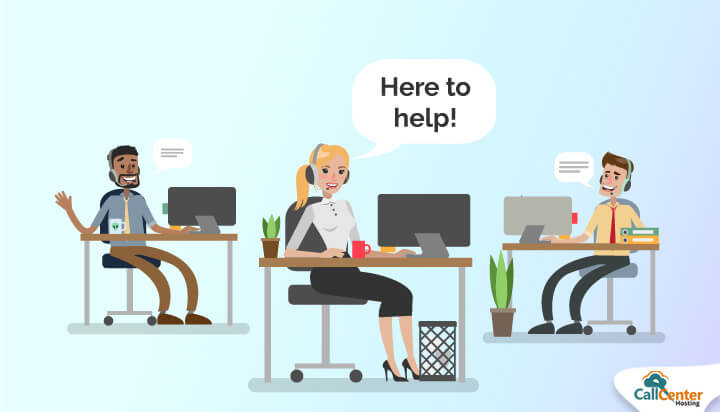 Here's how things play out for Jack, your regular customer care agent from a reputed firm: the phone rings, and he drops everything he's doing to answer. Before he can greet the customer and offer his assistance, the customer starts shouting, "I am done with your company and I want my money back!" In fact, the caller wants to speak to a supervisor almost immediately.
Stunned, Jack doesn't know what to say next. Nevertheless, he tries to defuse the situation using various calming techniques and even asks for help from his peers. No one comes to his aid and keeping the customer on hold only adds fuel to the fire. 
Do you think Jack's efforts were genuine? Could he have tried a bit harder? Where did he fall short? Could he have dealt with the situation differently? 
Irrespective of your answers to these questions, one thing is a given: there is an optimal way to deal with every possible situation and every type of customer. And if chaos ensues, like it did with our agent friend, the company clearly needs to work on its customer service.
A study by groovehq.com states—"84% of organizations working to improve customer service report an increase in revenue." 
But while that's easier said than done, companies can definitely achieve the gold standard in customer care by keeping certain things in mind. A great way to start is by considering the statement below:
Always. Remain. Calm.
An agent's greatest advantage is their calm and composed attitude. No company can afford to lose a potential customer, even a misbehaved one.  Therefore, representatives must be humble irrespective of the customer's mood or behavior.
While no one customer is the same and everyone must be dealt with differently, more often than not, people have common queries and a standard way of reacting to them. There are several techniques to come to a quick resolution and we will be discussing them in this article. 
Types of Customers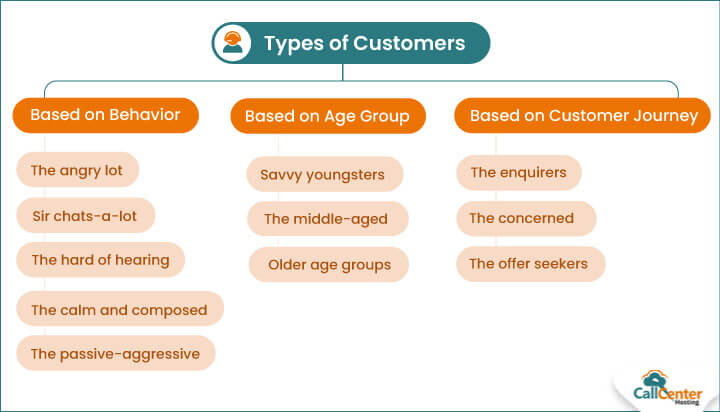 A. Based on Behavior
Behavior is the key characteristic that differentiates individuals. Usually, a person's behavior is dictated by their attitude, knowledge, and circumstances.  For instance, if a customer, in spite of making numerous calls to your organization, still hasn't received a solution, they will obviously be frustrated and agitated.  
1. The hard of hearing
Callers who face difficulty in hearing come under this category. It may be due to poor call quality, lack of attention, or even a medical condition. They tend to repeat questions and have a tough time understanding what the agent is saying. It is difficult to establish a connection with such callers and help them reach a solution. 
In such situations, it is important to maintain composure. As the caller may miss key information during the call, it is a good idea to share informative emails, e-brochures, or even SMSes containing the conversation summary afterwards.
2. The passive-aggressive 
Passive-aggressive callers are hard to understand and harder to deal with. They don't disclose all information and often give vague replies. All this can lead to a misunderstanding that can be detrimental to customer service. 
Therefore, agents need to carefully analyze such calls and take proper notes to better understand and assist the customers. Agents can also sift through their customer database to detect patterns and accordingly ask the right questions. 
3. Sir chats-a-lot 
Talkative callers are easy to deal with but they can eat up a lot of an agent's precious time. If given the reins of the conversation, they will weave endless tales, take the conversation off track, and indulge in distracting behavior. 
The best way to get through the call is to stay focused and bring the conversation back on course as soon as possible. It is better to engage callers with direct questions that have short, one-word answers. 
4. The calm and composed
Every agent's dream—the calm and easy to talk to, and deal with. Agents have the liberty to keep such individuals on hold (but for not too long, of course), ask several questions, and conveniently forward their calls if needed. This allows swift redressal and helps agents best serve the customers. 
5. The angry lot
It wouldn't be wrong to say that such customers are the most difficult to deal with. Angry people don't have the patience to listen and things could escalate from bad to worse quickly. Don't be surprised if these customers resort to using cuss words while recording their complaints. 
The only solution to this is to hear everything patiently. It is possible that the customer faced several unresolved issues, which fueled their anger. Empathy is key here.
B. Based on the Age Group
The age of a customer could play a significant role in determining the quality of a conversation. A young caller would be more responsive and tech-savvy, while someone older might find it hard to understand technical terms. 
1. Savvy youngsters
This category generally comprises teenagers or people in their mid-twenties. They are adept with technology and can resolve minor issues without interference.  Agents find it easier to have a conversation with this generation as they tend to understand the response better.  While they could be impatient, they will usually be open to different methods. 
2. The middle-aged
Though people in this category are aware of innovative tools and technology, they are less patient with them. This could be because they are busy and have fixed routines. A quick, hassle-free response is an agent's best bet. 
3. Older age groups
For the older generation, convenience is an important factor. They usually avoid getting into complicated situations and want their issues resolved as soon and as efficiently as possible. 
C. Based on Customer Journey
The customer journey is crucial to analyze customer behavior. People on different stages of the funnel have different queries; agents should be equipped to tackle each. 
1. The enquirers
 They are potential buyers who are eager to know about a specific product or have a query related to a feature or service. Talking to them is comparatively easy. The agent simply needs to help them understand the basics and answer their queries.
2. The concerned 
These callers have very specific doubts. They could either be looking for post-purchase service or could be potential buyers, at the very end of their customer journey. 
Agents often deal with frequently asked questions and common doubts from this category of callers. However, that shouldn't be a reason for an agent to dismiss queries, as doing so can have a negative impact on the brand's image. 
3. The offer seekers
This category of callers eagerly awaits upcoming offers and seasonal discounts. They are limited in number as they usually get information through billboards, websites, and other marketing platforms but are still very important for the business.
How Can You Deal With Different Customers?
After understanding different types of customers and their needs, call center agents such as Jack are better prepared with responses. Remember, each customer is different and possibly a combination of different types, so they must be dealt with utmost care and diplomacy. 
Tackle customers' anger with calmness, empathy, and quick responses and they will surely cooperate. And the chatty ones? Sticking to the point is the best way to come to a resolution. 
Invariably, there will be customers looking for discounts and offers; they just need a nudge in the right direction. Genuine queries must be efficiently dealt with accurate information and resources. 
However, dealing with customers on call is one thing, to end the call is another. There are times when this is inevitable; the customer has the solution, the agent has offered all the help they can, and the call needs to end. 
This is tricky because customers, especially the angry ones, might take offense. The rule of thumb is to follow the AVERT Model and de-escalate things quickly:
A: Appreciate the caller for little things that make them look wiser
V: Let the caller vent out and be patient
E: Value the caller's emotions and show them that you care
R: Make sure you resolve each and every issue of the caller, irrespective of relevance
T: Devote as much time as they ask for, but only discuss their concerns
With this simple approach and some tactical responses, call center agents won't be hassled while dealing with any kind of customer.
Conclusion
We understand that engaging with customers on call is no easy feat. But understanding their situation and taking responsibility in your hand is sure to make them amenable. One conversation can go a long way in cementing customer relations.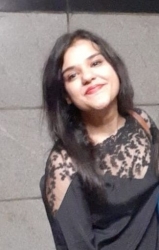 Latest posts by Aashita Sharma (see all)