Voice broadcasting is a mass communication solution in which a number of calls are made in bulk, simultaneously. When the calls are taken, a recorded file is played at the receiving end.
This recorded file can also offer some options for the listener to choose from by pressing a number on the dialing pad. In case of bulk SMS, the person receiving it just gets messages in text format.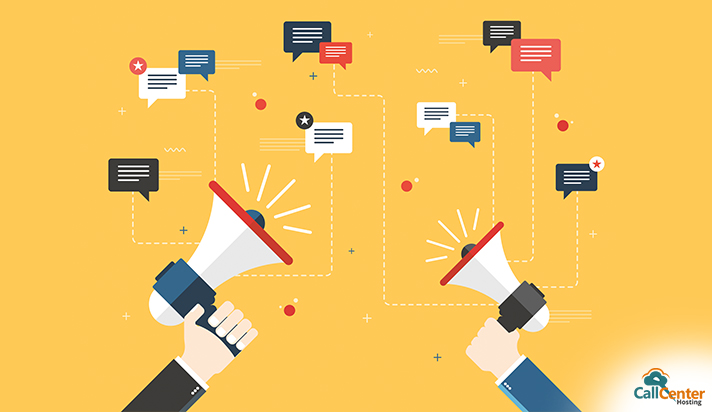 Now the question is why voice broadcasting is better than bulk SMS (Short Message Service) because an SMS does more or less the same thing. It also carries information to the receiving end.
There are various uses of voice broadcasting such as –
Notification and Reminders
Surveys
Campaigns
Promotions
We will be covering this topic broadly into three categories.
Attention
Engagement
Reporting
We will be discussing how voice broadcasting helps in grabbing the attention of respondents by purposeful engagement and also does in-depth reporting.
Attention
Voice broadcasting stands far ahead than bulk SMS service in terms of making a mass connection or in connecting with people, effectively.
The very first drawback that comes with bulk SMS is that it's a one-way communication. Hence, you cannot get the attention of the other person for a longer span of time. However, voice broadcasting is a two-way communication, and it can carry an option for the listener to give an immediate response on an ongoing call.
In addition to this, if we consider different demographics and cultures, everyone can listen but not everyone can read. The figures by UNESCO on literacy rate are still concerning.
But people who fall in the illiterate category, they also need information with equal importance, and their feedbacks and responses carry equal weight.
SMSs have been widely used for promotional activities, and that is why most of the SMS fall in the category of marketing and promotions that goes unseen and unchecked at the receiving end.
One can say bulk SMS is obsolete in getting attention from the respondents as this is an era of smartphones and people are used to well-designed apps and interfaces.
Another drawback of bulk SMS is it doesn't reach to all those who have activated DNC. But voice broadcasting has no such limitations.
Engagement
Voice broadcasting is a very engaging tool in terms of connecting with people because a voice call is more impressive than a text message to engage with the audiences. It is highly possible that a call will be taken at the receiving end.
You can use voice broadcasting for notification and reminders, and it stays free of cost. However, if somebody responds through SMS, then it does cost some money to them (On the basis of per SMS sent).
But responding through voice broadcasting doesn't cost any money to the respondents, they can just give their response by pressing a button on the dialing pad or speaking a response into the phone microphone.
Voice broadcasting also assures that you are engaging with the right person. In the case of bulk SMS, you cannot assure that the right person is responding on the other side.
In addition to this, the voice messages can be customized for one group over another, and you can also customize the time to make the outbound calls.
Once the call is not connected, there are no limitations to the number of retrials as retrial frequency is unlimited. There is no cost for the retrials for making a call and get connected with the customers. However, every SMS sent again is going to cost something to the sender.
Another advantage that comes with voice broadcasting but doesn't go along with the bulk SMS service is including a third opinion from the listener. In this option, the listener is given a prompt to speak out his opinion that falls beyond the given options. Bulk SMS service doesn't support for the third opinion.
Reporting
One cannot generate a report whether the SMS was opened or not once it was delivered, but voice broadcasting comes with extensive reporting, and every single message carries a report about the journey it took to reach at the receiving end.
It is way too easier to monitor or report with the help of voice broadcasting. Voice broadcasting provides an intensive report about the number of calls connected, and how many people actually listened to the voice message.
In SMS you cannot check whether the respondents actually read the full message or not even though if they opened it once it was delivered, but with voice broadcasting, you can check two different things,
How many people actually completed the survey or heard the full voice message?
How many people chose to go to a certain level in the survey and then quit it? (You can also check that certain level that they went up to).
Get to know all those people as well who heard the voice message but didn't participate in the survey. And this is how you can outreach them again.
You can also monitor the attendance of the people by taking a voice response from the individuals.
It is much easier to run a campaign via voice broadcasting for different zones or states and get a state-wise report. You can know better which area has active respondents and ample response.
You can preset the time-zone while running a voice broadcasting campaign. It helps if you have respondents spread across different time-zones.
With voice broadcasting, you can zero in the best time when you get the best number of responses from the respondents. You can run your voice broadcasting campaign at this particular time to get better results. Bulk SMS campaign doesn't provide this facility.
Another benefit that comes with voice broadcasting is, the portal easily integrates with the CRM (Customer Relationship Management) that helps in getting a clearer picture of the ongoing survey or campaign and track the responses and tap its full potential.

Latest posts by Vipul Srivastav (see all)