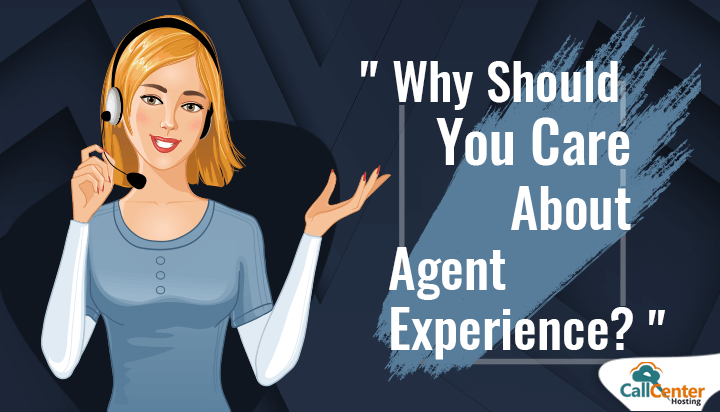 There is a saying 'Customer is King,' but the people who interact with them are no less important. It's their mindset that decides what kind of mindset they are going to leave the customers with.
So, it is important to give your agents a working environment that they like and continuously grow in.
It's sheer professionalism that creates an environment for perpetual growth that is mutual and multi-dimensional. For example, if we talk about call center business, your agents can be good at one skill, but if you don't explore their other dimensions, then it is going to restrict their abilities untapped and confined to just one domain.
In the call center environment, there can be instances when the call volume increases, and the work-pressure on the agents become unmanageable. In that case, it becomes essential to distribute the workload among agents equally and efficiently.
But before this, there are other aspects as well that are necessary to make your agent experience better that eventually leads to happy customers. Let's explore.
1. Clarity
Impart a sense of clarity to your agents and be very clear what you expect from them. If they are clear about their goals, then they can always decide how to go about a given task. But before assigning a task, it is necessary to judge how motivated your agents are.
Most of the agents are not clear about the vision of the company, and they fumble during a crisis, or when there are challenges. So, it is essential to decide a clear philosophy for your company and make sure you impart the same clarity to all.
2. Accountability
Give your agents more opportunities for decision-making. By doing this, you will make them more accountable for the steps they take. It is all about showing faith in your agents and their abilities. Employees like it when an employer shows faith in them, it's like sending them a message that you count them in for every crucial challenge to overcome.
Additionally, you give your agents more opportunities to make their presence felt as an important team member. And once the agents take responsibility themselves, they try their level best to give a work its best shape. Also, you develop a working environment in your company where agents are self-driven towards the goal.
3. Support
The way you show support to your agents and subordinates, likewise, they support each other and also your business. So, make sure you are supporting your agents in their growth and self-development.
Train them from time to time to adapt to the new changes in the market. Having said that, apart from professional support giving your agents emotional support is also very important as it keeps them in the right mindset to deliver better at work.
You should also support the new innovations and changes the time is bringing in. It can be new technology or a new approach to the work, give your agents all the autonomy to learn and apply. Rectify if they make mistakes and help them to learn from it. It will add to their experience in a good way, and it will also help them deliver a better experience to the customers.
4. Empathy
You might be sure that you are giving the best possible to your agents, but if you are missing out on empathy, you are missing the best results from your team. The best way is to understand their professional challenges and also their personal problems. Once you have understood it deeply help them towards a solution with genuine efforts.
So, as a call center manager or employer, you should work on to make an empathetic environment at the office. Agents develop the same behavior with each other. Once it becomes a practice, it impacts another important factor that is communication.
5. Communication
An organization where everyone has a say makes a healthy environment for the workplace. Make sure you have those channels in your organization where your agents have easy accessibility to the higher management.
It is also necessary for the employer to be vocal about short- and long-term goals. Also, communicate your sense of faith with them.
As we have discussed above, all the needed attributes, such as clarity, accountability, support, and empathy, they can only be taken into account through communication. An organization where employees have a voice makes a successful organization with a higher success rate.
6. Autonomy
Giving some autonomy to your agents mean you don't need to manage them all the time, make them autonomous managers of their work, and other responsibilities. This practice has several benefits.
It brings confidence to your agents that they can manage things on their own despite the challenges. Remain accessible to them so that they can find help whenever they need it.
Another benefit is a sense of connection that agents develop when they are allowed to go ahead by their own responsibility. In this way, you will have a variety of ideas from your agents that are eventually going to help you in the management process.
Some agents have the knack of management, but since they never get the opportunity, so these skills take a back seat. Giving them a sense of freedom will also give a sense of satisfaction to your agents and take their learning curve upwards.

Latest posts by Vipul Srivastav (see all)