The outbreak of coronavirus pandemic has impacted all industries and enterprises across the globe. With a global shutdown of operations and services, businesses are dealing with the challenge of maintaining business continuity.
However, advances in technology have made it considerably easier for businesses to migrate to the cloud and work remotely.
No commute time, No office chaos, No petty chitchats!!! Despite remote working getting popularity, it still comes with a lot of challenges for the enterprises as well the employees.
A report by the United Nations International Labor Organization says that while employees are more productive outside a conventional office, they are also more vulnerable to working extra hours, face work-home interferences, and higher stress.
Here Are Some Of The Remote Work Pitfalls That The You Can Come Across-
Challenge #1: You Find It Difficult To Manage Your Time
When you are working from home means ample distractions. There can be someone knocking at the door, or your siblings fighting with each other, maybe someone falls sick, and the list goes on.
You may also get stuck with social media and end up wasting a lot of time on useless things. The office environment gives that much required professional ambiance and working spirit.
What Is The Solution?
Install time and project management apps. Prioritize all your tasks and work for them strategically.
Challenge #2: You Work More, and You Work Overtime 
According to a CoSo Cloud survey, 23% of remote workers say they work longer hours than they would on-site. The biggest challenge that employees face while they work from home is working for far longer hours than they would do in the office. It can be tough to separate your work from your personal life while working from home.
Since you are available 24*7, you might be expected to work at any time. Some companies may also overload their employees with unnecessary work owing to their all-time availability.
According to a report by Buffer, 22% of remote employees say that unplugging after work is their biggest challenge.
What Is The Solution?
Set limitations and boundaries. Try to finish all your work in office hours and maintain a work-life balance.
Challenge #3: You Can't Establish Team Communication
Not being physically present in the office often gives rise to communication gaps within the teams. You may find it challenging to establish team communication since everyone has their own suitable working time, while telecommuting. It may create a gap and delay in the delivery of projects that require extensive team interactions.
Apart from work, it may also become very monotonous for you to work alone. Office breaks and interactions contribute to a healthy work environment.
What Is The Solution?
Establish common communication channels through Slack or Microsoft Team Apps. Conduct regular video or voice calls to maintain connectivity with the team.
Challenge #4: You Might Have Technology Breakdown
While conventional offices offer quick and business-grade technology, there are chances that you may face issues like internet slowdown at home. Your internet speed may not be able to meet the requirements of the job. Sometimes, you also face troubles while installing software or hosting files.
What Is The Solution?
Ask for support from your company's tech or IT team. Talk to your supervisors about the issues you are facing.
Author's Pick – Must-Have Tools for Call Center Agents While Working from Home
Challenge #5: You May Feel Missed Out (FOMO may get real)!
19% of remote workers say that loneliness is their biggest challenge. Well, Fear Of Missing Out is real when you are all alone at your home work-desk with absolutely no interactions with anyone.
When you work from the office, water cooler talks, coffee breaks, and fun Friday activities boost your productivity. However, at home, you may feel lethargic at times and cut off from the social circle as everything happens virtually.
What Is The Solution?
Include social breaks in your schedule and interact with your co-workers. You can also have small group calls as part of stimulating activities.
Despite these challenges, we can't ignore the fact that remote working brings greater flexibility to work. CoSo Cloud Survey shows that 77% of remote employees say they're more productive when working from home.
With the innumerable benefits of telecommuting, you just need to know the right strategies to work from home.
In this infographic, we will take a look at 13 tips that are useful while remote working. Check out this infographic for valuable insights.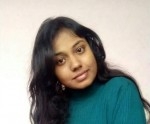 Latest posts by Kritagya Pandey (see all)