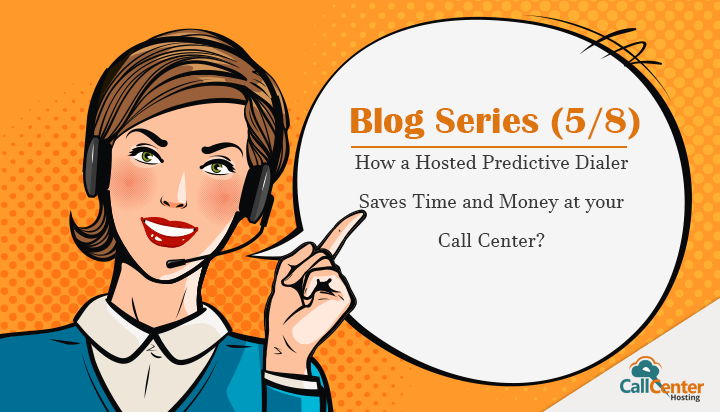 In the previous blog, we learned about the top 16 features of a predictive dialer. Now let's see what all features help in saving time and money at your call center.
After all, time and money are the two most important things that should be given the utmost value.
Predictive dialers are feature-rich dialers that help with the overall efficiency of your call center. But a hosted predictive dialer should be responsible for saving your agent's time and the total capital of your call center towards making your business profitable and efficient.
So, let's see the features that directly or indirectly help in saving either time or money or both these aspects.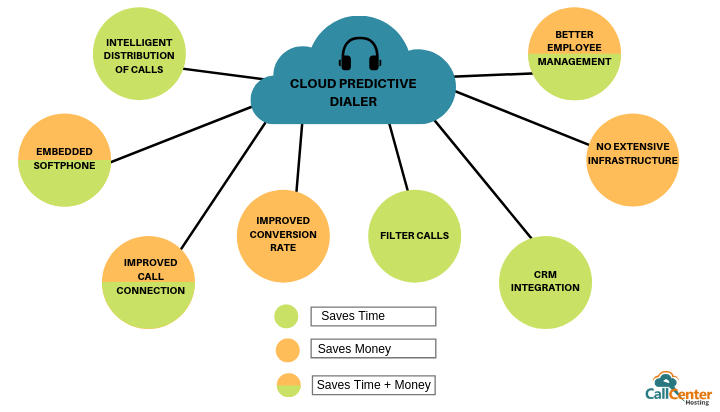 1. Intelligent Distribution Of Calls
Distributing calls intelligently or Automatic Call Distribution (ACD) is an aspect of dialers that help in saving time and gaining the maximum outcome from agents. Automatic call distribution refers to routing calls based on department, agent capabilities, or any other predefined factor.
These calls when routed to the right agent save the time of both the organization and the customers as the customers reach precisely where they want to be and the agents only speak to customers who require their expertise.
Intelligent routing also saves time as the agents get a chance to explain the best possible solution and in turn help the customer in the first go, supporting both, the FCR (First Call Resolution) rate and the customer service of the organization.
Hence, Intelligently Distributing Calls — Saves Time
2. Embedded Softphone (Web-Based Dialer)
Embedded softphones or an in-built web-based dialer helps to save time and money. Also, you had to keep switching from the softphone to the dialer or copy numbers from the dialer and dial them on the softphone which results in wastage of time. Having an embedded dialer ensures that the agent does not waste any time switching in between the two different mediums.
Web-based dialers save both time and money by performing all the tasks from a single screen and not spending on two different software or two different services. You can rather just choose a dialer and start dialing to your prospects.
Hence, Embedded Softphone — Saves Time And Money
3. Improved Chances Of Call Connection
Predictive dialers work on the algorithm of predicting when a call has the maximum chance of being connected. They also predict when the agent will be available for the next call by tracking the average handling time of every agent.
These algorithms and the functioning of predictive dialers increase the chances of call connection and save the time of the agents. A predictive dialer also filters out the busy connections, wrong numbers, and answering machines to connect only the calls that are answered by a live person only. This feature ensures that both time and money is saved on the additional costs of dialing and having agents waste their time on trivial tasks such as listening to busy tones or trying out an unreachable number.
Hence, Improvement In Chances Of Call Connection — Saves Time And Money
4. Conversion Rate Improves
Conversion rate is the percentage of prospects or the percentage of people that turned to customers after the call. Now conversion rate is subjective, and different businesses can have different goals for their conversion.
The critical part here is that a cloud-based predictive dialer increases your probability of conversion by filtering out calls so that only real and interested people speak with the agent. It also helps by reducing the wait time of the prospects and connecting them to agents as soon as possible.
These and all the other features of a predictive dialer mentioned in previous blogs collectively help in obtaining a better conversion rate and hence saving the time of agents and bringing money to the business.
Improve In Conversion Rate — Brings Money To The Business
5. Filter Calls
One of the main functions of a cloud predictive dialer is to filter out all the busy tones, unanswered calls, answering machines, wrong numbers and connect only the calls that have been successfully answered by a human. This functionality of a predictive dialer filters out all the bad calls and saves the time of the agent by only giving him/her the useful calls.
This functionality also helps to keep track of the period and time zones where maximum calls were not answered at a particular time. This record-keeping and analysis helps the predictive dialer predict the right time for calling prospects for future use.
Filtering Calls — Saves Time
6. CRM Integration
CRM or Customer Relationship Management is a strategy for keeping all customer-related data in one place. A CRM of any organization contains all the customer data, their interactions, their transactions, and their feedback at one convenient location.
CRM integration saves the agent's time by helping them understand the customer history and solving them at a much higher speed. It is essential to have CRM integration these days as it ensures a personalized and better conversation for both the customer and the agent.
CRM Integration — Saves Time
7. Better Employee Management
Predictive dialers make the most out of the available agents by increasing their talk time by around 200-300% as compared to manual dialers. The agents are, in turn, better managed as they have increased productivity and the maximum proportion of their time is being spent on talking to prospects rather than calling or doing any trivial tasks.
Saving on time and using human resources effectively also leads to a positive environment in the organization as it calls for the equal sharing of the load. Overall positivity in the business leads to better performance and better returns.
Competent agent management also leads to cutting costs by preventing the hiring of additional staff and only hiring in numbers that are required for a stable balance in the call center.
Better Employee Management — Saves Time And Money
8. No Extensive Infrastructure
A cloud predictive dialer can save costs on infrastructure, both one time and in the long run as they do not need any extensive hardware during installation or for the functioning. The cloud-hosted environment provides all the necessary security without spending a massive amount on infrastructure and maintenance. Not to forget the upgrade costs that come with extensive hardware.
No Extensive Infrastructure — Saves Money
Although we have distinctly defined which feature saves time, and which feature saves money. The distinction is mutually related as saving time might lead to saving money and vice versa which basically means that these two elements are somewhat interrelated.
So, all these points mentioned above answers the question of how predictive dialers will help your business achieve their profit goals or how it will effectively gain maximum benefit from your agents' working hours. So, if your business needs a time-money savior, you should probably switch to predictive dialer fast!
Coming Up Next!
Still not convinced. Read all about why predictive dialer is a complete outbound calling solution and how it will transform your outbound calling process in the blog coming up next!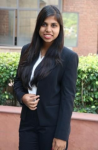 Latest posts by Niharika Gupta (see all)