Uninterrupted communication is the first thing an organisation needs to have to get the total potential out of its employees and to achieve this, communication tools as PBX comes into the play.
PBX stands for Private Branch Exchange. It's an internet platform that allows people to communicate with each other by using a software called softphones or a device known as IP phones. PBX is mainly used inside an organisation to connect employees with each other.
Earlier, PBX was based on hardware, and it needed to install a switching box in the office premise to make a connection between employees through a wired phone line. This kind of communication platform had its own hassles because of its hardware limitations and because of the glitch that would occur due to the wired setup.
So, when PBX got a platform on cloud, the whole scenario took a very innovative turn because cloud overcame the limitations that traditional PBX offered. Cloud technology made the PBX more equipped in every sense. Let's look into cloud PBX and understand how it functions.
How It Works?
Devices need technology or a protocol to connect and communicate over the internet. It is called TCP/IP that stands for Transmission Control Protocol / Internet Protocol.
TCP/IP decides how data is exchanged over the internet by determining how it should be broken into packets and further transmitted and received at the destination.
But with more advancements in technologies VoIP (Voice over Internet Protocol) came into existence. It came as an extension to TCP/IP because it had some additional protocols that further made a complete picture of VoIP.
So, essentially TCP/IP was not enough for VoIP. The additional protocols include Real-time Transport Protocol (RTP), Resource Reservation Protocol (RSVP), RTP Control Protocol (RTCP), Real-Time Streaming Protocol (RTSP), Session Description Protocol (SDP), and Session Announcement Protocol (SAP).
When we speak about cloud PBX, all these protocols are followed to make every single call happen.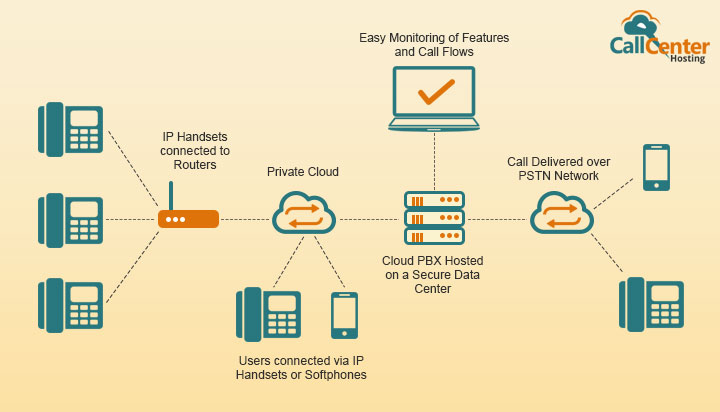 In the above diagram, we can see there is a cloud PBX platform that is hosted on secure data centers. Cloud PBX is further connected to a private network, precisely, LAN (Local Area Network) that connects all the employees of an organisation through the internet.
Now, with the help of a softphone or an IP Phone, a call can be made to any destination.
All the above-mentioned protocols ensure that the communication on the internet should happen flawlessly without any interruption. Cloud PBX is a secure platform that performs efficiently to connect employees of an organisation and makes them highly productive.
In addition to this, there are other benefits as well that make cloud PBX appropriate for the contemporary communication needs of an organisation.
Benefits of Cloud PBX
Economic
Traditional wired network comes with high expenses, and since it is hardware based, so it asks for maintenance time to time. But cloud PBX just completely avoids all the installation cost of the hardware.
A computer that has a softphone or an IP phone installed can easily make the communication happen. All you have to pay for the internet usage charges. There is no cost involved in the maintenance of the softphone application.
Scalability
As per the need, you can always add additional lines; this makes a lot easier for more number of employees to get connected and make a common platform for all the employees. For every new employee, you just need to have an extra line on the hosted PBX.
Flexibility
Cloud PBX is highly flexible in terms of using the internet because a cloud-based PBX can be accessed from anywhere, and also, in case of disaster, the call can be rerouted to a new destination, easily.
Up to Date Features
Cloud PBX comes with several features that make it more relevant in today's scenario. Features such as instant messaging, desktop sharing, web conferencing, call recording, call reporting, auto attendant make it a complete PBX solution.
Collaborative Solution
Cloud PBX is a collaborative solution because it brings every employee on a single platform and it helps in collaboration. For example, if there is any problem or issue, then experts can join in the discussion from anywhere. Uninterrupted communication leads to effective problem-solving.
On the Move Platform
Cloud PBX is a platform that one can work with on the move. It means all the employees of an organisation can work from anywhere in the world and still maintain being on the same platform. In case if your business shifts from one location to another then you don't need to shift any physical setup, your PBX is already available there on the internet.
Moving Your PBX to Cloud
Moving your PBX to cloud is very easy as you just need two things on a primary level. The very first thing is a broadband internet connection and the second thing is a softphone or an IP phone. The cloud PBX is so designed that it brings every employee on a common platform with a login ID and password. 
If we sum up, by moving to cloud you get several promising benefits in a single step such as higher productivity, manageability, much lower cost, business continuity and a benefit of including every employee with their core competencies on a single platform.

Latest posts by Vipul Srivastav (see all)